by Jason Chin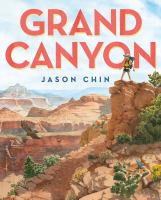 Publishers Weekly
(c) Copyright PWxyz, LLC. All rights reserved

Chin (Island: A Story of the Galapagos) packs the geologic history of the Grand Canyon into a stunningly illustrated story of a magical father-daughter hike. The duo's daylong trek out of the magnificent landform becomes a journey through time, as discoveries along the trail transport the girl to various eras in the canyon's creation. A prosaic narrative of facts follows their ascent ("Above the basement layer, you'll reach the Grand Canyon Supergroup"), while, at each new rock layer, the girl notices a fossil or other anomaly through a small die-cut hole. Turning the page, readers find her transported across epochs: a trilobite fossil turns into its living namesake as the surprised girl finds herself floating in an ancient sea. Vignettes of flora and fauna from different elevations frame scenes of the hike, as do explanatory sidebars about how rock layers and fossils form. With narrow white borders, the already-realistic ink-and-watercolor illustrations resemble photographs, evoking a scrapbook, and a concluding gatefold opens to reveal an awe-inspiring panoramic portrait of the Grand Canyon near sunset. Endnotes to this multilayered, thorough, and ingeniously assembled primer offer additional ecologic, geologic and anthropologic information. Ages 7-12. (Feb.) © Copyright PWxyz, LLC. All rights reserved.
---
School Library Journal
(c) Copyright Library Journals LLC, a wholly owned subsidiary of Media Source, Inc. No redistribution permitted.

Gr 3-5-A breathtaking walk through multiple habitats and deep time. Beginning at the banks of the Colorado River, a child and her adult companion hike up the South Kaibab trail from 1.84 billion-year-old "basement rocks" past the layers of the Grand Canyon Supergroup, the Bright Angel Shale, and other major formations to the Kaibab Limestone layer at the top. At the same time, the two pass through riparian greenery, sun-baked desert scrub, and pinyon juniper woodland to reach the South Rim's ponderosa pine forest. In Chin's cleanly drawn scenes, viewers who follow along will catch glimpses of characteristic flora and fauna (with other wildlife lined up along the margins) at each elevation, plus clear looks at each distinctive rock layer. Better yet, occasional fossils in the rocks, seen through cutouts, temporarily transport the child with a page turn to prehistoric mudflats, sand dunes, and sea floor. A double gatefold vista vividly underscores Chin's opening proposition that the canyon is "much more than just a big hole in the ground," and the author supplements his information-rich running commentary with further notes and illustrations covering the canyon's history, human settlement, ecology, and geology. It's all Grand. VERDICT An outstanding introduction to one of the world's greatest outdoor wonders, with much to offer elementary students about Southwestern biomes, sedimentary geology, and the profound pleasures of observing nature.-John Peters, Children's Literature -Consultant, New York City © Copyright 2017. Library Journals LLC, a wholly owned subsidiary of Media Source, Inc. No redistribution permitted.
---
Book list
From Booklist, Copyright © American Library Association. Used with permission.

*Starred Review* Filled with arresting artwork and fascinating information, Chin's imposing latest proves that the Grand Canyon is much more than just a big hole in the ground. Following a father and daughter from the North Rim to the South Rim, Chin's virtual hiking tour, which features actual locations and views, takes readers from the oldest, deepest area of the Grand Canyon (the Inner Gorge) to the youngest (Ponderosa Pine Forest). His stunning illustrations do double duty, offering snapshots of the pair's trek as well as myriad details in the page margins, such as a visual catalog of plants and animals that live in each featured region of the canyon, diagrams clearly explaining how the canyon was formed, and spreads revealing what the canyon looked like millions, even billions, of years ago. Chin's straightforward, lucid text seamlessly integrates concepts and scientific terms in engaging paragraphs full of surprising information, all of which is beautifully complemented by the illustrations. A culminating, panoramic gatefold spread reveals a breathtaking vista of the canyon, now made all the more incredible by the wealth of information in the preceding pages. Plenty of additional reading and information about the canyon closes out the volume. With vivid imagination, a crystal-clear grasp of the facts, and brilliant artwork, this illuminating look at one of the planet's most fascinating features will entrance young readers.--Lock, Anita Copyright 2016 Booklist