by Imbolo Mbue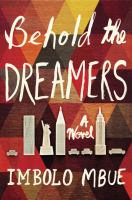 Publishers Weekly
(c) Copyright PWxyz, LLC. All rights reserved

From Cameroonian Mbue comes a debut novel about two immigrants struggling to find their footing in a new world. When Jende Jonga journeys to New York City from Cameroon in 2004 on a visitors' visa in hopes of obtaining a green card, he's sure his life will only improve. After saving up enough money to bring over Jende's wife, Neni, and six-year-old son, the family moves into an apartment in Harlem. Then Jende hits the jackpot in 2007 when he lands a job as a chauffeur for Clark Edwards, a wealthy Lehman Brothers executive. But working for the Edwardses isn't as cushy and above board as Jende expected. Clark's long hours at the office and frequent late-night "appointments" at the Chelsea Hotel raise red flags with his wife, Cindy. When Neni agrees to accompany the Edwards family to Southampton as a temporary nanny for their youngest son, she learns far more than she bargained for about Cindy's fragile mental state. Before long, the pressure of keeping what they know about Clark and Cindy-and the threat of deportation-becomes too much for the Jongas to bear, threatening the stability of their marriage and their ability to remain in a country they still can't call home. Mbue's reliance on overheard phone conversations to forward the plot makes for choppy reading, and the tenor of the Edwardses' rich-people problems is nothing new. But the Jongas are much more vivid, and the book's unexpected ending-and its sharp-eyed focus on issues of immigration, race, and class-speak to a sad truth in today's cutthroat world: the American dream isn't what it seems. Agent: Susan Golomb, Writers House. (Aug.) © Copyright PWxyz, LLC. All rights reserved.
---
Book list
From Booklist, Copyright © American Library Association. Used with permission.

They could not have picked a worse company to hitch their wagon to nor a worse time to do so. It is late 2007, and the economy is on the cusp of the Great Recession when young Cameroonian immigrants Jende and Neni Jonga chase after the American dream in New York City. Despite lacking papers, Jende finds a job as chauffeur to one of Lehman's top executives, Clark Edwards. Juggling children and jobs, wife Neni works toward her ultimate goal, a pharmacy degree. The Jonga family's fate intertwines with the Edwardses', and both families are caught in the financial and emotional fallout following the Lehman collapse. The Edwards family verges on a caricature of the rich and troubled (Clark's wife, Cindy, is addicted to drugs, and son, Vince, sets off to India to find himself), but the Jongas are vividly realized, their struggles and petty concerns soulfully narrated, with sparkling dialog. The occasional melodramatic note notwithstanding, Mbue's first novel is a weighty meditation on the true collateral costs of that all-American pastime, the pursuit of happiness.--Apte, Poornima Copyright 2016 Booklist
---
Library Journal
(c) Copyright Library Journals LLC, a wholly owned subsidiary of Media Source, Inc. No redistribution permitted.

This heartfelt and intimate portrayal of African immigrants trying to make it in New York City around 2007 focuses on the family of Jende Jonga from Cameroon. He lands a job as a chauffeur for a wealthy finance industry boss and is then able to bring his wife, Neni, and their young son over from Africa. Neni enrolls in college and is hired as a cleaner and nanny for the family for whom Jende works, and they become more involved with these superrich people who have problems of their own. As the Wall Street financial crisis deepens, Jende loses his job, and their application for asylum is rejected. The incredible pressures of poverty, limited opportunities, and the grind of New York City and an uncertain future stress the family to the breaking point as a new baby is born and they struggle not to lose sight of their dream. -Mbue's debut portrays these individuals realistically and sympathetically as the stresses of surviving in New York City lead to marital difficulties and physical confrontations. VERDICT A fast-paced, engaging read with an interesting cross-cultural background. [See Prepub Alert, 2/8/16.]-James Coan, SUNY at Oneonta Lib. © Copyright 2016. Library Journals LLC, a wholly owned subsidiary of Media Source, Inc. No redistribution permitted.