by Mike McCormack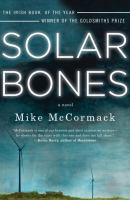 Publishers Weekly
(c) Copyright PWxyz, LLC. All rights reserved

The latest from McCormack (Notes from a Coma) is a beautifully constructed novel that blends Beckett's torrential monologues with a realist portrait of small-town Ireland. The book opens with short, fragmented descriptions of the "systolic thump" of a church bell heard by a man, Marcus Conway, standing in his kitchen. He is a civil engineer and a one-time seminary student who lives on the west coast of Ireland, at "the edge of this known world." Waiting for his wife and children to return home, Marcus is struck by the "twitchy energy in the ether," mystified at being "swept up on a rush of words" and bombarded with "a hail of images." Free of periods, the one-sentence novel is comprised of Marcus's unceasing reflections and recollections, some lyrical and tender, others caustic, on his childhood, family, politics, and local building projects. He marvels at the miraculous construction of the world while feeling a sense of foreboding at its imminent unravelling. Bodies, minds, buildings, financial systems, the civic order, and the universe itself-"the whole vast assemblage of stars and galaxies in their wheeling rotations"-all seem poised of the brink of collapse. As Marcus waxes eloquent on everything from tractor parts to concrete foundations, the novel's suspense derives from the mystery of why this "strange" day-All Souls' Day, as it happens-occasions such an "unspooling" of the mind. This is an intelligent, striking work. (Sept.) © Copyright PWxyz, LLC. All rights reserved.
---
Library Journal
(c) Copyright Library Journals LLC, a wholly owned subsidiary of Media Source, Inc. No redistribution permitted.

As the Angelus tolls on All Soul's Day, Marcus Conway's ghost visits the house that he shared with his family in Louisburgh, County Mayo, Ireland. There, he reassembles the facts of his earthly existence from memory. An engineer in life, Marcus delights in the forms and structures, both natural and human made, that shape our existence. For our protagonist, life's dark comedy arises from the habit of being mystified by existence despite being defined by structure, from the stunning natural features of County Mayo's coastlines and hills, Louisburgh's buildings and thoroughfares, to the bones, tissues, and fluids that to varying degrees make up earthly life. The arrangement of a sandwich on a plate delights Marcus as much as a wind turbine does, and much of his afterlife musings consider how human factors such as politics and property compromise potentially perfect designs. -McCormack's third novel (after Notes from a Coma, short-listed for the Irish Book of the Year Award) exhibits his startling imagination and humor as well as a measured narrative style that departs from the more rapid delivery characteristic of his earlier prose. VERDICT Widely praised, this book is a brilliant tour de force. [See Prepub Alert, 4/10/17.]-John G. Matthews, Washington State Univ. Libs., Pullman © Copyright 2017. Library Journals LLC, a wholly owned subsidiary of Media Source, Inc. No redistribution permitted.
---
Book list
From Booklist, Copyright © American Library Association. Used with permission.

McCormack won the Rooney Prize for Irish Literature for his first collection of short fiction, Getting It in the Head (1996), and quickly attracted a widespread following in literary circles for his eccentric but mesmerizing writing style. His latest work, already anointed Novel of the Year by the Irish Book Awards, challenges readers with an elegiac, stream-of-consciousness narrative composed entirely of one long run-on sentence, often broken up into more digestible verse-like lines. Taking place in and around a rural village in County Mayo, where McCormack grew up, the story if this term even applies describes the interwoven memories and reflections passing through the mind of civil engineer Marcus Conway as he sits in his kitchen one early November afternoon. Shifting back and forth across time from Conway's childhood on a farm through his early marriage and later career, McCormack's novel embraces a rich panorama of working life, spiritual contemplation, and musings over Ireland's economic woes. Deserving a readership far larger than Irish-literature devotees, this is a work of bold risks and luminous creativity.--Hays, Carl Copyright 2017 Booklist