by by Pam Mu?oz Ryan ; drawings by Peter S?s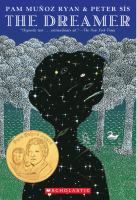 Horn Book
(c) Copyright The Horn Book, Inc., a wholly owned subsidiary of Media Source, Inc. No redistribution permitted.

Perfect is the union that resulted in this novel: the subject, Chilean poet Pablo Neruda (190473); author Ryan who re-creates Neruda's spirit and sensibility; and the Czech-born illustrator Sms whose escape from oppression so hauntingly resembles Neruda's struggle for creative freedom. Sms's introspective, emotion-charged drawings spring naturally from this lyrical account of a difficult childhood. An author's note and several Neruda poems are appended. (c) Copyright 2010. The Horn Book, Inc., a wholly owned subsidiary of Media Source, Inc. No redistribution permitted. All rights reserved.
---
Kirkus
Copyright © Kirkus Reviews, used with permission.

Ryan's fictional evocation of the boy who would become Pablo Neruda is rich, resonant and enchanting. Simple adventures reveal young Neftal's painful shyness and spirited determination, his stepmother's love and his siblings' affection and his longing for connection with his formidable, disapproving father. The narrative captures as well rain falling in Temuco, the Chilean town where he was raised, and his first encounters with the forest and the ocean. Childhood moments, gracefully re-created, offer a glimpse of a poet-to-be who treasures stories hidden in objects and who recognizes the delicate mutability of the visible world, while the roots of Neruda's political beliefs are implied in the boy's encounters with struggles for social justice around him. Lines from a poem by Ryan along with Ss's art emphasize scenes and introduce chapters, perfectly conveying the young hero's dreamy questioning. The illustrator's trademark drawings deliver a feeling of boundless thought and imagination, suggesting, with whimsy and warmth, Neftal's continual transformation of the everyday world into something transcendent. A brief selection of Neruda's poems (in translation), a bibliography and an author's note enrich an inviting and already splendid, beautifully presented work. (Historical fiction. 9-13)]] Copyright Kirkus Reviews, used with permission.