by Ruth Ware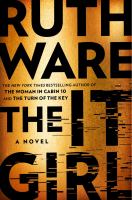 Library Journal
(c) Copyright Library Journals LLC, a wholly owned subsidiary of Media Source, Inc. No redistribution permitted.

When she arrived at Oxford, Hannah was quickly pulled into the circle surrounding glittery April Coutts-Cliveden, who was shockingly murdered at the end of second term. A decade later, with the Oxford porter convicted of the crime dead in prison, Hannah is beginning to rethink April's murder—and believes that one of their friends has been hiding something. From No. 1 New York Times best-selling Ware; with a 300,000-copy first printing.
---
Library Journal
(c) Copyright Library Journals LLC, a wholly owned subsidiary of Media Source, Inc. No redistribution permitted.

Ware (One by One) has written another Agatha Christie-esque novel with her signature twist ending. Hannah Jones meets popular and carefree It Girl April Clarke-Cliveden on her first day at Oxford. They quickly form a close friend group with Emily, Ryan, Hugh, and Will. By the end of the semester, April is dead. A decade later, the man accused of her murder has died in prison proclaiming his innocence. When a young reporter starts asking questions, Hannah begins investigating what really happened that night. She soon realizes there are some answers she may not want to know. Imogen Church provides a well-done narration of the tense, twist-filled mystery. The It Girl explores the group dynamics and the lengths to which someone will go to protect themselves. The repercussions are explored as well, as listeners are introduced to each of the characters and the effects that April's murder has had on them. VERDICT Ware's newest novel is a must-add for mystery collections that will appeal to her fans and new readers alike.—Elyssa Everling
---
Kirkus
Copyright © Kirkus Reviews, used with permission.

Ten years after having discovered her Oxford roommate's dead body in front of the fireplace in their room, a young woman struggles with the realization that she may have helped send the wrong man to prison. Hannah Jones arrives at Oxford hardly believing that she's been accepted into this haven of learning and wealth. Sharing a picturesque set of rooms with the flamboyant and beautiful April Clarke-Cliveden, she divides her time between rigorous studying and energetic socializing with Emily Lippmana, Ryan Coates, Hugh Bland, and Will de Chastaigne, with whom she shares an attraction even though he's April's boyfriend. It's a good life except for the increasingly creepy interactions she has with John Neville, one of the porters. When Hannah finds April dead one night just after she's seen Neville coming down the stairs from their rooms, it's her testimony that puts him in jail. Ware divides the novel into alternating "before" and "after" chapters, with the narrative of Hannah's college experience unfolding parallel to the events of her life nearly a decade later, when she's married to Will and pregnant with their first child. Then Neville dies in prison and Hannah hears from a reporter who thinks he might actually have been innocent. Hannah begins to wonder herself, and she plunges back into the past to see if she can figure out what really happened that night. As usual with Ware, the novel is well crafted—the setting, characters, and dialogue are all engaging—but it lacks the author's signature sense of urgent and imminent threat. The novel unfolds smoothly, providing a few twists and turns, as the reader might expect, but not really delivering any true suspense. It also lacks the contrast between a luxurious background and the characters' fears that Ware has often played to great effect. She does offer a deeper dive into the trauma of the survivors than she usually does, but this isn't the breathless page-turner one has come to expect from Ware. Delightfully readable fiction, but the mystery disappoints. Copyright © Kirkus Reviews, used with permission.
---
Library Journal
(c) Copyright Library Journals LLC, a wholly owned subsidiary of Media Source, Inc. No redistribution permitted.

Ware (One by One; The Turn of the Key) once again demonstrates her literary claim as the 21st century's answer to Agatha Christie with this ingeniously crafted puzzler in which she deftly shifts suspicion among a closed circle of suspects, while cleverly inserting seemingly innocuous clues to the real killer among a sea of red herrings. When Hannah Jones hears the news that John Neville has died in prison, she thinks it is finally over. Instead, for Hannah, it is just beginning. Ten years ago, Hannah's testimony sent Neville to prison for the murder of Hannah's Oxford roommate and friend April Clarke-Cliveden. Now a reporter wants to meet with Hannah to share with her information he believes may prove Neville's innocence. But if Neville didn't murder April, who did? VERDICT Fans of Golden Age mysteries like Dorothy Sayers's Gaudy Night will love the book's Oxford setting, while readers of trendy dark academia suspense novels, in the manner of Alex Michaelides's The Maidens, will feel right at home. Top-drawer entertainment from a modern master of mystery.—John Charles
---
Book list
From Booklist, Copyright © American Library Association. Used with permission.

April Clarke-Cliveden was the It Girl. "Whatever it was, she had it." She was dazzlingly beautiful, rich, and irrepressible. Her propensity for playing practical jokes knew no bounds. After her roommate, Hannah, finds April strangled in their shared quarters at Oxford, a university porter is convicted of the murder, thanks in part to Hannah's testimony against him. He dies in prison 10 years later, still asserting his innocence. Hannah is now pregnant and married to April's former boyfriend. The media are after her, making her life miserable once again, and then one of their former classmates tells Hannah something that leads her to doubt what she saw—or thought she saw. The narrative is related in brief alternating chapters, from "before" and "after." Ware develops both the reader's doubts about and concern for Hannah as the suspense builds gradually under a masterful barrage of red herrings. Hannah is certainly vulnerable, but how reliable is she? Seasoned mystery readers will ache for a vintage Inspector Morse to magically appear in the vivid Oxford setting, but Hannah must go it alone, determined to learn the truth, through a harrowing conclusion. Like Ware's earlier novels, this one employs another closed setting, although it eventually opens up to a wider world. Riveting.
---
Publishers Weekly
(c) Copyright PWxyz, LLC. All rights reserved

This exceptional psychological thriller from Ware (One by One) probes how much one can trust others—and one's self. Hannah Jones's Oxford University roommate, April Clarke-Cliveden, is everything Hannah isn't: wealthy, sophisticated, sexually adventurous, and occasionally cruel. The two become best friends despite their differences and the unspoken attraction between Hannah and April's boyfriend, Will. Moments after Hannah sees college porter John Neville leaving their residence building, she finds April strangled. Though Neville is later convicted of the murder, the crime, trial, and subsequent media furor upend Hannah's life. Ten years later, she's living in Edinburgh, married to Will, and pregnant. Days after Neville dies in prison, a journalist emails her with evidence that calls the porter's guilt into doubt. Fearing her testimony helped convict an innocent man, Hannah feels compelled to revisit the murder with the three Oxford friends that knew April best. The memories shared by mild-mannered doctor Hugh, mathematician Emily, and Ryan, who has suffered a stroke since their college years, call most of what she's believed about April and her death into question. Alternating past and present chapters build toward a gripping denouement as nicely chosen details bring each character vividly to life. This showcases Ware's gifts to the fullest. Agent: Eve White, Eve White Literary (U.K.). (July)