by George Saunders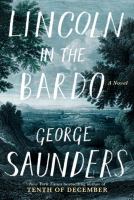 Library Journal
(c) Copyright Library Journals LLC, a wholly owned subsidiary of Media Source, Inc. No redistribution permitted.

This first novel from the acclaimed short story writer (Tenth of December) has been adapted into a cinematic (and potentially record-setting) audiobook that pushes the current boundaries of the format. The story takes place early in the Civil War over the course of one night in 1862. Though the Lincolns' son Willie has been laid to rest, his spirit lingers in the cemetery where his father pays a final visit. Saunders alternates between scene-setting historical and scholarly quotes (some fabricated) and the observations of the cemetery's longtime inhabitants, many of whom suffer Dantean torments. Into the endlessly repetitive existence of those caught between life and death come a catalyzing Willie and Lincoln himself, who departs with a better understanding of the intimate tragedies that soldiers' families suffer. Featuring 166 narrators, including stars such as Nick Offerman, David Sedaris, Megan Mullally, and Keegan-Michael Key, as well as the author himself, the audio presentation brings a chorus of voices to raucous, guilty, fearful, and complicated life. -Verdict Recommended for all collections. ["A stunningly powerful work...this remarkable work of historical fiction gives an intimate view of 19th-century fears and mores through the voices of the bardo's denizens": LJ 10/1/16 starred review of the Random hc.]-Anna Mickelsen, Springfield City Lib., MA © Copyright 2017. Library Journals LLC, a wholly owned subsidiary of Media Source, Inc. No redistribution permitted.
---
Book list
From Booklist, Copyright © American Library Association. Used with permission.

*Starred Review* Even though Saunders (Tenth of December, 2013), the much-heralded author of distinctively inventive short stories, anchors his first novel to a historical moment the death of President Abraham Lincoln's young son, Willie, in February 1862 this is most emphatically not a conventional work of historical fiction. The surreal action takes place in a cemetery, and most of the expressive, hectic characters are dead, caught in the bardo, the mysterious transitional state following death and preceding rebirth, heaven, or hell. Their vivid narration resembles a play, or a prose variation on Edgar Lee Masters' Spoon River Anthology (1915), as they tell their stories, which range from the gleefully ribald to the tragic in tales embodying the dire conflicts underlying the then-raging Civil War. On pages laddered with brilliantly curated quotes from books and historical documents (most actual, some concocted), Saunders cannily sets the stage for Lincoln's true-life, late-night visits to the crypt, where he cradles his son's body scenes of epic sorrow turned grotesque by the morphing spirits' frantic reactions. Saunders creates a provocative dissonance between his exceptionally compassionate insights into the human condition and Lincoln's personal and presidential crises and this macabre carnival of the dead, a wild and wily improvisation on the bardo that mirrors, by turns, the ambience of Hieronymus Bosch and Tim Burton. A boldly imagined, exquisitely sensitive, sharply funny, and utterly unnerving historical and metaphysical drama. HIGH-DEMAND BACKSTORY: The buzz is loud and will continue to be so when literary star Saunders goes on a national author tour supported by an all-platform media blitz.--Seaman, Donna Copyright 2016 Booklist
---
Publishers Weekly
(c) Copyright PWxyz, LLC. All rights reserved

Saunders's (Tenth of December) mesmerizing historical novel is also a moving ghost story. A Dantesque tour through a Georgetown cemetery teeming with spirits, the book takes place on a February night in 1862, when Abraham Lincoln visits the grave of his recently interred 11-year-old son, Willie. The distraught Lincoln's nocturnal visit has a "vivifying effect" on the graveyard's spectral denizens, a gallery of grotesques who have chosen to loiter "in the Bardo"-a Tibetan term for a liminal state-rather than face final judgment. Among this community, which is still riven by racial and class divisions, are Roger Bevins III, who slashed his wrists after being spurned by a lover, and Hans Vollman, a "wooden-toothed forty-six-year-old printer" struck in the head by a falling beam shortly after marrying his young wife. As irritable, chatty, and bored in their purgatory as Beckett characters, Bevins and Vollman devote themselves to saving Willie from their fate: "The young ones," Bevins explains, "are not meant to tarry." Periodically interrupting the graveyard action are slyly arranged assemblies of historical accounts of the Lincoln era. These excerpts and Lincoln's anguished musings compose a collage-like portrait of a wartime president burdened by private and public grief, mourning his son's death as staggering battlefield reports test his (and the nation's) resolve. Saunders's enlivening imagination runs wild in detailing the ghosts' bizarre manifestations, but melancholy is the novel's dominant tone. Two sad strains, the spirits' stubborn, nostalgic attachment to the world of the living and Lincoln's monumental sorrow, make up a haunting American ballad that will inspire increased devotion among Saunders's admirers. (Feb.) © Copyright PWxyz, LLC. All rights reserved.
---
Kirkus
Copyright © Kirkus Reviews, used with permission.

Short-story virtuoso Saunders' (Tenth of December, 2013, etc.) first novel is an exhilarating change of pace. The bardo is a key concept of Tibetan Buddhism: a middle, or liminal, spiritual landscape where we are sent between physical lives. It's also a fitting master metaphor for Saunders' first novel, which is about suspension: historical, personal, familial, and otherwise. The Lincoln of the title is our 16th president, sort of, although he is not yet dead. Rather, he is in a despair so deep it cannot be called mere mourning over his 11-year-old son, Willie, who died of typhoid in 1862. Saunders deftly interweaves historical accounts with his own fragmentary, multivoiced narration as young Willie is visited in the netherworld by his father, who somehow manages to bridge the gap between the living and the dead, at least temporarily. But the sneaky brilliance of the book is in the way Saunders uses these encountersnot so much to excavate an individual's sense of loss as to connect it to a more national state of disarray. 1862, after all, was the height of the Civil War, when the outcome was far from assured. Lincoln was widely seen as being out of his depth, "a person of very inferior cast of character, wholly unequal to the crisis." Among Saunders' most essential insights is that, in his grief over Willie, Lincoln began to develop a hard-edged empathy, out of which he decided that "the swiftest halt to the [war] (therefore the greatest mercy) might be the bloodiest." This is a hard truth, insisting that brutality now might save lives later, and it gives this novel a bitter moral edge. For those familiar with Saunders' astonishing short fiction, such complexity is hardly unexpected, although this book is a departure for him stylistically and formally; longer, yes, but also more of a collage, a convocation of voices that overlap and argue, enlarging the scope of the narrative. It is also ruthless and relentless in its evocation not only of Lincoln and his quandary, but also of the tenuous existential state shared by all of us. Lincoln, after all, has become a shade now, like all the ghosts who populate this book. "Strange, isn't it?" one character reflects. "To have dedicated one's life to a certain venture, neglecting other aspects of one's life, only to have that venture, in the end, amount to nothing at all, the products of one's labors utterly forgotten?" With this book, Saunders asserts a complex and disturbing vision in which society and cosmos blur. Copyright Kirkus Reviews, used with permission.
---
Library Journal
(c) Copyright Library Journals LLC, a wholly owned subsidiary of Media Source, Inc. No redistribution permitted.

Short story master Saunders (Tenth of December) eagerly awaited first novel may not be what fans of his dystopic, sf-like short stories have expected. It begins with snippets of historical fact, accompanied by citations-presumably both actual and fictionalized-that set the novel at the time of the death of Abraham Lincoln's son Willie. The entries shift to quips made by individuals, and we realize we are hearing conversations among spirits that haunt the Washington graveyard where Willie is buried. When Lincoln returns for a grieving nighttime visit, these apparitions attempt to reunite Willie's spirit with his father. Bardo is a term from Tibetan Buddhism referring to the transitional state between death and the next realm; the wraiths in this amorphous space chatter, float about, see visions, and change shape in disorienting ways. Yet they are confined, both by their previous lives and by a fear of final judgment, of which Saunders provides a truly horrifying glimpse. VERDICT A stunningly powerful work, both in its imagery and its intense focus on death, this remarkable work of historical fiction gives an intimate view of 19th-century fears and mores through the voices of the bardo's denizens. [See Prepub Alert, 6/29/16.]-Reba Leiding, emeritus, James Madison Univ. Lib., Harrisonburg, VA © Copyright 2016. Library Journals LLC, a wholly owned subsidiary of Media Source, Inc. No redistribution permitted.