by Catherine Gilbert Murdock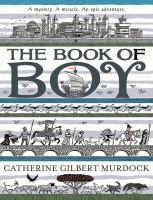 School Library Journal
(c) Copyright Library Journals LLC, a wholly owned subsidiary of Media Source, Inc. No redistribution permitted.

Gr 4-6-Boy is the village outcast. A hunchbacked orphan with a mysterious past and a knack for talking to animals, he's faced more than his share of abuse and mockery from those around him. Enter Secundus, a strange pilgrim impressed with Boy's climbing and jumping skills. Secundus pulls Boy into a journey across Europe to gather the seven relics of Saint Peter. The journey, however, is not as innocent as Boy first assumes. Instead, they're stealing relics, making enemies, and facing peril all the way to Rome. Set in the year 1350, this is a medieval tale that blends historical fiction with magical realism. Readers will enjoy the adventures of Boy and Secundus, rife with twists that give the story more depth than a straightforward historical novel. Boy is an admirable protagonist who deals with his differences with a mix of acceptance and self-consciousness. Secundus, too, is a character that has more depth to him than meets the eye. While the peril may seem light to some, younger readers will get a thrill with every narrow escape. The book is easy to read with clear prose, short chapters, and illustrations scattered throughout. VERDICT A good recommendation for readers not quite ready for Adam Gidwitz's The Inquisitor's Tale or for those who enjoyed Karen Cushman's Catherine, Called Birdy but crave a bit more magic.-Paige Garrison, The Davis Academy, Sandy Springs, GA © Copyright 2017. Library Journals LLC, a wholly owned subsidiary of Media Source, Inc. No redistribution permitted.
---
Book list
From Booklist, Copyright © American Library Association. Used with permission.

*Starred Review* It is 1350, the pope has fled from Rome to France, plague has ravished Europe, and Boy is sitting in an apple tree when a mysterious traveler approaches. So begins the marvelously rich tale of Boy, who has a secret; Secundus, who has many secrets; and the journey they undertake to find seven relics: rib, tooth, thumb, toe, dust, skull, and tomb. Murdock uses the conventions of the pilgrim's journey and adds enticing details that will draw in a young audience. Boy, an orphan and servant in a manor house, was told by the village priest he is a miracle, but he doesn't feel like one. He has a hump on his back, which makes him an object of derision, and he must hide his ability to speak with and understand animals. Secundus, meanwhile, is a man of mystery who stinks of brimstone, but as he warms to Boy, he also exhibits kindness and loyalty. Their epic adventures take them to Rome, where Secundus is determined to present his relics at the tomb of St. Peter. Scuffles and sacrifices, ferocious animals, and dastardly thieves abound as Boy and Secundus are slowly revealed to readers and each other. This is also a beautiful piece of bookmaking, from the woodblock-style design elements to the manuscript-like paper. A vivid, not-to-be-missed story, part The Inquisitor's Tale (2016), part Skellig (1998), but wholly its own.--Cooper, Ilene Copyright 2018 Booklist
---
Horn Book
(c) Copyright The Horn Book, Inc., a wholly owned subsidiary of Media Source, Inc. No redistribution permitted.

Secundus, a pilgrim, and Boy, a goatherd, travel together from France to Rome in 1350, each mysterious character on a quest. Murdock is in complete control of her medieval material, limning a world of bleak, plague-decimated villages and steeped in religious belief. The fantastical story is beautifully served by its generous page design, thick deckle-edged paper, and gorgeous woodcut-style illustrations. Most remarkable is the complex, compelling character of Boy. (c) Copyright 2019. The Horn Book, Inc., a wholly owned subsidiary of Media Source, Inc. No redistribution permitted.
---
Kirkus
Copyright © Kirkus Reviews, used with permission.

Light and darkness have never clashed with such fierce majesty and eloquent damnation.Murdock weaves an engrossing tale set in medieval France, filled with charismatic characters, daring deeds, and more sinister duplicity than a certain serpent in the Garden of Eden. The titular Boy is thought a simpleton, a disfigured child who has lived a life of ridicule. Accepting of his sorry lot in life, the humble servant wants nothing more than to live in the shadows and avoid the ill-tempered attention of the likes of town bully Ox. That is, he accepts it until the arrival of the shadowy pilgrim, Secundus, enlarges Boy's world beyond the small boundaries of his village and introduces him to a world filled with greed, hunger, joy, deceit, and victory. Along with a story that unravels to reveal that not everything in the world is as it appears, Murdock delivers a wickedly fun-filled quest that twists and turns with lyrical fire. Boy ponders: "Pilgrim he might be but this man has sin stitched into his soul." The story is, among other things, an exploration of religion, Secundus' thieving quest for relics a counterpoint to Boy's stalwart faith.Blend epic adventure with gothic good and evil, and add a dash of sly wit for a tale that keeps readers turning the page, shaking their heads, and feeling the power of choice. (Historical fiction. 8-12) Copyright Kirkus Reviews, used with permission.