by Tayari Jones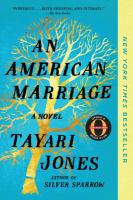 Kirkus
Copyright © Kirkus Reviews, used with permission.

A look at the personal toll of the criminal justice system from the author of Silver Sparrow (2011) and The Untelling (2005).Roy has done everything right. Growing up in a working-class family in Louisiana, he took advantage of all the help he could get and earned a scholarship to Morehouse College. By the time he marries Spelman alum Celestial, she's an up-and-coming artist. After a year of marriage, they're thinking about buying a bigger house and starting a family. Then, on a visit back home, Roy is arrested for a crime he did not commit. Jones begins with chapters written from the points of view of her main characters. When Roy goes to prison, it becomes a novel in letters. The epistolary style makes perfect sense. Roy is incarcerated in Louisiana, Celestial is in Atlanta, and Jones' formal choice underscores their separation. Once Roy is released, the narrative resumes a rotating first person, but there's a new voice, that of Andre, once Celestial's best friend and now something more. This novel is peopled by vividly realized, individual characters and driven by interpersonal drama, but it is also very much about being black in contemporary America. Roy is arrested, tried, convicted, and imprisoned in Louisiana, the state with the highest per-capita rate of incarceration in the United States, and where the ratio of black to white prisoners is 4 to 1. There's a heartbreaking scene in which Celestial's uncleRoy's attorneyencourages her to forget everything she knows about presenting herself while she speaks in her husband's defense. "Now is not the time to be articulate. Now is the time to give it up. No filter, all heart." After a lifetime of being encouraged to be "well spoken," Celestial finds that she sounds false trying to speak unguardedly. "As I took my seatnot even the black lady juror would look at me." This is, at its heart, a love story, but a love story warped by racial injustice. And, in it, Jones suggests that racial injustice haunts the African-American story.Subtle, well-crafted, and powerful. Copyright Kirkus Reviews, used with permission.
---
Library Journal
(c) Copyright Library Journals LLC, a wholly owned subsidiary of Media Source, Inc. No redistribution permitted.

Novelist Jones (Silver Sparrow), recipient of the Hurston/Wright Legacy Award and United States Artist Fellowship, begins her story with Celestial and Roy, a young, newlywed couple excited about their future together, taking a trip to visit Celestial's family. Roy then makes a simple decision that changes his life. A woman in a nearby hotel room is raped and, having encountered Roy at the ice machine, later mistakenly identifies him as the culprit. Despite the lack of evidence, Roy is sentenced to prison for 12 years. Celestial knows that he is innocent and tries to support him despite her pain. She turns to best friend Andre, who was also a friend of Roy's, eventually beginning a relationship with him. When Roy's conviction is later overturned, his return is equally a joyous and a challenging occasion that brings up issues of love, family, and race. Jones's writing is engagingly layered with letters between the main characters integrated through the narrative. Her personal letter to readers demonstrates how writing this novel changed her. VERDICT Layered like Pearl Cleage's What Looks Like Crazy on an Ordinary Day, this title will appeal to all readers of contemporary fiction. [See Prepub Alert, 8/14/17.]-Ashanti White, -Fayetteville, NC © Copyright 2017. Library Journals LLC, a wholly owned subsidiary of Media Source, Inc. No redistribution permitted.
---
Book list
From Booklist, Copyright © American Library Association. Used with permission.

Married for just over a year, Roy and Celestial are still navigating their new dynamic as husband and wife. Then their lives are forever altered when they travel to Roy's small Louisiana hometown for a visit, and Roy is falsely accused of a harrowing crime and sentenced to 12 years in prison. The strain on their relationship is intense during Roy's incarceration, especially once Celestial's career takes off while he struggles with loss and feelings of abandonment. Nearly halfway through Roy's sentence, his conviction is vacated. In the aftermath of his unexpected release, the couple must confront difficult questions about the choices they've made as well as the expectations of others. For Celestial, it means reconciling the relationship with her husband with that of a longtime friend turned lover. Roy, on the other hand, faces the complexities of a life he no longer recognizes. Jones (Silver Sparrow, 2011) crafts an affecting tale that explores marriage, family, regret, and other feelings made all the more resonant by her well-drawn characters and their intricate conflicts of heart and mind.--Strauss, Leah Copyright 2017 Booklist
---
Publishers Weekly
(c) Copyright PWxyz, LLC. All rights reserved

Jones (Silver Sparrow) lays bare the devastating effects of wrongful imprisonment in this piercing tale of an unspooling marriage. Roy, an ambitious corporate executive, and Celestial, a talented artist and the daughter of a self-made millionaire, struggle to maintain their fledgling union when Roy is sentenced to 12 years in prison on a rape charge he is adamant is false. Before Roy's arrest, the narrative toggles between his and Celestial's perspectives; it takes an epistolary form during his imprisonment that affectingly depicts their heartbreaking descent into anger, confusion, and loneliness. When Roy is proven innocent and released seven years early, another narrator is introduced: Andre, Celestial's lifelong best friend who has become very close to her while Roy has been away. Jones maintains a brisk pace that injects real suspense into the principal characters' choices around fidelity, which are all fraught with guilt and suspicion, admirably refraining from tipping her hand toward one character's perspective. The dialogue-especially the letters between Roy and Celestial-are sometimes too heavily weighted by exposition, and the language slides toward melodrama. But the central conflict is masterfully executed: Jones uses her love triangle to explore simmering class tensions and reverberating racial injustice in the contemporary South, while also delivering a satisfying romantic drama. Agent: Jane Dystel, Dystel, Goderich & Bourret. (Feb.) © Copyright PWxyz, LLC. All rights reserved.