by Bonnie Garmus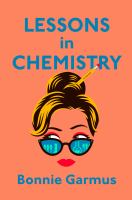 Library Journal
(c) Copyright Library Journals LLC, a wholly owned subsidiary of Media Source, Inc. No redistribution permitted.

It's the 1960s, and chemist Elizabeth Zott is getting pushback from her male-only colleagues at the Hastings Research Institute—except from misanthropic Nobel Prize contender Calvin Evans, who's enchanted by her mind. Meanwhile, Elizabeth has a surprise second calling; she becomes star of a hit TV cooking show called Supper at Six, mixing in chemistry ("combine one tablespoon acetic acid with a pinch of sodium chloride") as she subtly signals that women needn't accept things as they are. Sold in heated auctions to an eye-popping 34 countries so far, this debut promises to be really big.
---
Kirkus
Copyright © Kirkus Reviews, used with permission.

Two chemists with major chemistry, a dog with a big vocabulary, and a popular cooking show are among the elements of this unusual compound. At the dawn of the 1960s, Elizabeth Zott finds herself in an unexpected position. She's the star of a television program called Supper at Six that has taken American housewives by storm, but it's certainly not what the crass station head envisions: " 'Meaningful?' Phil snapped. 'What are you? Amish? As for nutritious: no. You're killing the show before it even gets started. Look, Walter, it's easy. Tight dresses, suggestive movements...then there's the cocktail she mixes at the end of every show.' " Elizabeth is a chemist, recently forced to leave the lab where she was doing important research due to an out-of-wedlock pregnancy. Now she's reduced to explaining things like when to put the steak in the pan. "Be sure and wait until the butter foams. Foam indicates that the butter's water content has boiled away. This is critical. Because now the steak can cook in lipids rather than absorb H2O." If ever a woman was capable of running her own life, it's Elizabeth. But because it's the 1950s, then the '60s, men have their sweaty paws all over both her successes and failures. On the plus side, there's Calvin Evans, world-famous chemist, love of her life, and father of her child; also Walter Pine, her friend who works in television; and a journalist who at least tries to do the right thing. At the other pole is a writhing pile of sexists, liars, rapists, dopes, and arrogant assholes. This is the kind of book that has a long-buried secret at a corrupt orphanage with a mysterious benefactor as well as an extremely intelligent dog named Six-Thirty, recently retired from the military. ("Not only could he never seem to sniff out the bomb in time, but he also had to endure the praise heaped upon the smug German shepherds who always did.") Garmus' energetic debut also features an invigorating subplot about rowing. A more adorable plea for rationalism and gender equality would be hard to find. Copyright © Kirkus Reviews, used with permission.
---
Library Journal
(c) Copyright Library Journals LLC, a wholly owned subsidiary of Media Source, Inc. No redistribution permitted.

Miranda Raison delivers a spirited performance of Garmus's inventive debut novel. A copywriter and creative director by trade, Garmus has crafted an inspiring protagonist in the brilliant, uncompromising Elizabeth Zott, a chemist facing extreme misogyny in the 1950s and '60s. After surviving a harrowing sexual assault that ruined her chance at an organic chemistry PhD, Zott takes her UCLA master's degree and accepts a job at nearby Hastings Research Institute, where she falls in love with the equally driven Calvin Evans, a Nobel Prize—nominated scientist. After enduring another personal tragedy and more harassment, Zott leaves the Institute to host the local TV show Supper at Six in which she shows respect for her homemaker viewers by focusing on the chemistry behind cooking and nutrition. Absolutely fabulous as Chef Zott, Raison also wonderfully portrays Garmus's delightful cast of secondary characters, which include a budding feminist neighbor and an extremely intelligent dog. VERDICT Sparkling with humor and tragedy, sharp prose, underdog heroes, evil villains, and a mostly happy ending, this must-have title is a Good Morning America Book Club selection and forthcoming Apple TV series. Includes an author interview.—Beth Farrell
---
Publishers Weekly
(c) Copyright PWxyz, LLC. All rights reserved

Garmus debuts with a perplexing feminist fairy tale set in 1960s Southern California. Plucky chemist Elizabeth Zott believes she's not like other women ("Most of the women she'd met in college claimed they were only there to get their MRS," Garmus writes. "It was disconcerting, as if they'd all drunk something that had rendered them temporarily insane"). She proceeds to fall madly in love with her colleague, have his child, and then, after being sidelined by double standards, sexual harassment, and scandal around her pregnancy, she's dismissed from her job and becomes an overnight sensation as the host of a daytime cooking show. This trajectory, and its few tragedies, are intermittently interrupted by the anthropomorphized thoughts of her dog, Six-Thirty: "Humans were strange, Six-Thirty thought, the way they constantly battled dirt in their aboveground world, but after death willingly entombed themselves in it." In the end, everything works out—not because the patriarchy is destroyed or fairness is achieved, but thanks to the favors of a rich female benefactor equipped to strike back at those who humiliated Zott. While the scenes of Zott hosting her show do have their charm, the overall effect is about as deep as a Hallmark card. The author has a great voice, but contemporary readers will be left wondering who this is for. Agent: Jennifer Joel, ICM. (April.)
---
Book list
From Booklist, Copyright © American Library Association. Used with permission.

Cooking is chemistry. When Elizabeth Zott enters a relationship with the brilliant Calvin Evans, she cooks him meals in exchange for sharing his home. They are both scientists at a California research institute in the 1960s, and although she has to fight for basic supplies like beakers, he is celebrated for the funding his work generates. When their relationship is tragically cut short, she turns to cooking and lands a job as the chef of a television show, allowing her to support her daughter, Madeline. Stymied in her scientific career by the misogynistic attitudes of her colleagues, Elizabeth nevertheless persists in this unflinching examination of the hurdles women of the era had to overcome to be valued similarly to men in the workplace. With the help of a forthright neighbor, a loyal TV producer, and an astute dog, Elizabeth forges a path that includes an unexpected hobby as a rower and her no-nonsense cooking show, in which she draws on her knowledge of chemistry. Indefatigable and formidable, Elizabeth pushes the bounds of how women and their work are perceived in this thoroughly engaging debut novel.