by Andrew McCarthy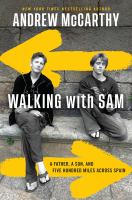 Book list
From Booklist, Copyright © American Library Association. Used with permission.

Wasn't he in those movies in the eighties? Now a director, travel writer, and the author of two previous memoirs and a YA book, McCarthy (Brat: An 80s Story, 2021) this time around shares his journey walking the 500-mile Camino de Santiago with his 19-year-old son, Sam. The author had taken the same trek 26 years earlier and wanted to repeat the experience, preferably before his son left home; Sam's recent breakup provided the ideal opportunity for the month-long trip. The daily rigors open doors to talks about music and food as well as to deeper conversations about life and purpose. Sam ruminates on lessons learned from his ex, and McCarthy reflects on his difficult relationship with his own father while seeking to impart important truths in moments of receptivity. Both learn about their strengths and frailties during their time together. McCarthy's depiction of the rewarding endeavor of walking the Camino with his son is both worthwhile and entertaining.
---
Kirkus
Copyright © Kirkus Reviews, used with permission.

A father and son take to the road. Actor and travel writer McCarthy recounts an arduous, emotional five-week, 500-mile trek on the Camino de Santiago with his 19-year-old son, Sam, a walk that McCarthy had completed 25 years before, when he was in his early 30s and looking for insight. "Single and childless," he recalls, "I was several years removed from a drinking habit that had derailed my life. I had put down cigarettes just eight months earlier. My movie career, which had once showed such promise, was essentially over. And I was terrified to be making this walk alone." The second time around, instead of terror, he felt anxious hope that walking together would foster an "emotional transition" in his relationship with his son, which, he admits, had been rocky. For his part, Sam agreed to go on the walk in the aftermath of a romantic breakup. Irritable and self-absorbed, he was far less interested in talking to his father—his responses were often curt, punctuated by "whatever"—and much more focused on scrolling his phone, calling friends, and checking social media. For the few hundred miles, when Sam did talk, it was mostly about his ex, and sometimes about his parents' divorce, which sent him back and forth between households. For his part, the author thought about his insecurities as a parent, his relationship with his angry, volatile father, and his capacity for happiness and love. The walk, McCarthy reflects, "acts as a receptacle for our fears, doubts, and resentments, while summoning our more noble traits." As a travelogue, the narrative is no advertisement for the pilgrimage. The trail is blisteringly hot and dusty, and in villages along the way, the two encountered surly waiters, bad food, and inadequate places to stay. The walk, though, was never about the destination but rather about a father and son readying themselves for a new stage in their lives. A candid record of a difficult journey. Copyright © Kirkus Reviews, used with permission.
---
Library Journal
(c) Copyright Library Journals LLC, a wholly owned subsidiary of Media Source, Inc. No redistribution permitted.

Twenty-five years after actor-turned-writer McCarthy (Brat: An '80s Story) trekked 500 miles across Spain's Camino de Santiago, he returned with his 19-year-old son, Sam, who is also an actor. The author wanted to tackle the Camino again, find common ground, and forge an adult relationship with his son. McCarthy shares exquisite details of their surroundings, providing historical context as they leave France's Pyrenees, journey through Spain's Basque Country, cross the areas of Pamplona, La Rioja, Leon, and Galicia, and end in Iberia a month later. Along the way, they face weather extremes, blisters, the love triangles of fellow pilgrims, and McCarthy's own fears of being exposed to his son as deficient in his abilities and knowledge. The process of the two connecting over time is heartwarming and relatable. During that time together, Sam navigates his first breakup, struggles with waking up in the mornings, and expresses curiosity about his parents' divorce after many years. McCarthy often finds the humor in their interactions, and their freeform discussions range from Spanish history to confirmation bias and Sam's disappointment in an educational system that rejected him. VERDICT A sweet gem of a tale that will appeal to McCarthy fans and those who appreciate a challenging journey.—Lisa Henry