by Judith Ortiz Cofer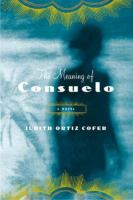 Kirkus
Copyright © Kirkus Reviews, used with permission.

The young narrator and her native Puerto Rico go through major transitions, in this reflective second novel by Cofer (The Line of the Sun, 1989; stories: The Year of Our Revolution, 1998, etc.). The rules are very clear in the 1950s, Consuelo shows us as she describes a neighborhood transvestite who is good enough to come to the back door and do her mother's nails, but "in public we were to pretend we didn't know him." He's a fulano (outsider), and though our narrator is expected to live up to her name and be a consolation to her parents, quietly rebellious Consuelo fears her feelings might also place her outside the strict local order. Her father, maintenance engineer at a San Juan hotel, worships everything American and modern; her mother clings to island traditions. Her younger sister Mili (short for Milagros, "miracle") is cheerful and light where Consuelo is serious and dark, but Mili's increasing strangeness is only one of the developments bringing new tensions to the family. "My cousins and I were speaking a language that separated our world from that of our parents," Consuelo writes, "a slang peppered with terms like 'rock-and-roll' that had no direct equivalent in our native tongue." When Consuelo sleeps with a boy who tells all his friends, she doesn't die of shame but finds the strength to reject his judgment: "I was not like my mother who had to get the permission of all her relatives and ancestors before making any decisions about her life." She's guided by her cousin Patricio, who finds freedom in New York, and by Lucila, a fellow student from the slums who is everything the gente decente in Consuelo's family scorn. Cofer's luminous prose anatomizes both the constriction nature of traditional Puerto Rican life and its beauty. We understand Consuelo's abiding love for her homeland as well as her need to get away. Perfect for girls growing out of YA titles, and adults will also savor this lovely coming-of-age tale for its elegant language and nuanced but definite judgments about manners and morals. Copyright ŠKirkus Reviews, used with permission.