by Antonio Skarmeta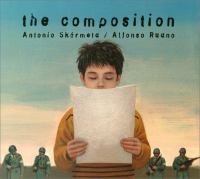 Horn Book
(c) Copyright The Horn Book, Inc., a wholly owned subsidiary of Media Source, Inc. No redistribution permitted.

When a friend's father is dragged from his store, nine-year-old Pedro learns it's because he's against the dictatorship running their unnamed Latin American country. By the time a soldier instructs Pedro's class to write about what their families do at night, Pedro knows he must conceal the truth. This book's effectiveness lies in its unflagging loyalty to Pedro's point of view, its artfully realistic illustrations, and its deft use of understatement. (c) Copyright 2010. The Horn Book, Inc., a wholly owned subsidiary of Media Source, Inc. No redistribution permitted. All rights reserved.
---
Kirkus
Copyright © Kirkus Reviews, used with permission.

Well-meaning if heavy-handed, this picture book views a Latin American dictatorship through the eyes of a nine year old. Pedro doesn't understand why his parents listen so carefully to the radio broadcast every night. He knows that the streets are now full of soldiers, but until a friend's father is arrested, Pedro has really never thought about the turmoil that is going on in his country. Pedro finally asks if his father and mother are against the dictatorship; his father tells him that yes, he and Pedro's mother oppose the new regime. When Pedro asks if that means that he (Pedro) is also against the government, his mother answers, "Children aren't against anything. Children are just children." But despite this, Pedro has gotten the implicit message that he, too, is against the dictatorship. So when an army officer comes into Pedro's classroom and announces that the child who writes the best composition on the topic of what his or her parents do at home in the evening will win a prize, Pedro understands that he has to protect his parents. While he doesn't win the officer's prize, he does win the admiration and respect of his parents by ingeniously saying that his parents play chess every evening, all evening long. Although the story ends well for its heroes, the reader comes away with the distinct impression that Pedro hasn't been very well prepared by his parents. They tell their son the truth about their own political leanings, yet leave it up to Pedro to figure out that he's supposed to lie for them. The illustrations are unsophisticated, even a little amateurish (the depictions of Pedro aren't consistent from image to image), and only contribute to the book's heavily didactic tone. Useful, perhaps, for social-studies teachers trying to explain what life is like under a totalitarian regime, but not a particularly engaging work. (afterword) (Picture book. 7-10) Copyright ŠKirkus Reviews, used with permission.