by Patrick Radden Keefe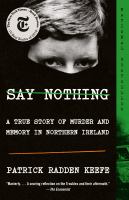 Kirkus
Copyright © Kirkus Reviews, used with permission.

Half a century after the fact, a cold case in Northern Ireland provides a frame for a deeply observed history of the Troubles.In 1972, though only 38, Jean McConville was the mother of 10, trying to raise them on a widow's pension in a cloud of depressiona walking tale of bad luck turned all the worse when she comforted a wounded British soldier, bringing the dreaded graffito "Brit lover" to her door. Not long after, masked guerrillas took her from her home in the Catholic ghetto of Belfast; three decades later, bones found on a remote beach were identified as hers. These events are rooted in centuries of discord, but, as New Yorker staff writer Keefe (The Snakehead: An Epic Tale of the Chinatown Underworld and the American Dream, 2009, etc.) recounts, the kidnapping and killing took place in the darkest days of the near civil war between Catholics and Protestants. Another Belfast graffito of the time read, "If you're not confused you don't know what's going on," and the author does an excellent job of keeping an exceedingly complicated storyline on track. At its heart is Gerry Adams, who eventually brokered the truce between warring factions while insisting that he was never a member of the IRA, whose fighters killed McConville. "Of course he was in the IRA," said an erstwhile comrade. "The British know it. The people on the street know it. The dogs know it on the street." Yet, as this unhappy story shows, one of the great sorrows of Northern Ireland is that naming murderers, even long after their crimes and even after their deaths, is sure to bring terrible things on a person even today. Keefe's reconstruction of events and the players involved is careful and assured. Adams himself doubtless won't be pleased with it, although his cause will probably prevail. As the author writes, "Adams will probably not live to see a united Ireland, but it seems that such a day will inevitably come"perhaps as an indirect, ironic result of Brexit.A harrowing story of politically motivated crime that could not have been better told. Copyright Kirkus Reviews, used with permission.