by Yuko Katakawa.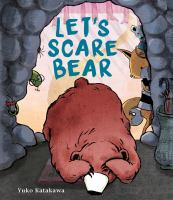 Horn Book
(c) Copyright The Horn Book, Inc., a wholly owned subsidiary of Media Source, Inc. No redistribution permitted.

As they enjoy afternoon tea, including sweet manju cakes (steamed buns filled with red bean paste), four woodland-creature friends decide to scare a bear passing by. All their tactics fail--until the bear '€˜admits'€™ his deepest fear: manju cake. The animals lob the cakes into the bear's cave and are surprised by the bear's pleased reaction. The mixed-media illustrations reward close inspection with clever details. Based on '€˜Manju Kowai'€™ or '€˜Scared of Buns,'€™ a story from the Japanese oral storytelling tradition of rakugo. (c) Copyright 2021. The Horn Book, Inc., a wholly owned subsidiary of Media Source, Inc. No redistribution permitted.
---
Kirkus
Copyright © Kirkus Reviews, used with permission.

Four friends take turns trying to scare Bear.Mouse, Fox, Snake, and Spider love manju cake, a Japanese steamed bun with sweet filling. As they're about to enjoy a manju feast, Bear thumps by. Seeing as Bear is the biggest and bravest animal around, the four friends decide to scare him. Fox goes first, baring his sharp teeth, but Bear just flashes his teeth back. Spider, Snake, and Mouse follow with their tricks, but nothing can scare Bear. Finally, Bear says only one thing scares him: manju cakes. While Bear hides in his cave at the very thought, the four friends attempt to scare Bear one last timebut Bear plays the best trick of all. Katakawa's debut picture book is a funny tale of silly scare tactics and tricks. Based on a classic Japanese rakugo tale called "Manju Kowai," Katakawa's telling emphasizes cute animals and a one-line lesson that sharing may be better than scaring. The friendly, cartoon illustrations are bold and lively. Using digital drawing techniques, Katakawa adds movement and depth to the images as well as small details (Snake's spectacles, Mouse's overalls, Spider's web-written dialogue) that add fun and context to the short text. A fun twist on a tale from Japanese oral storytelling tradition, great for reading aloud. (Picture book. 4-8) Copyright Kirkus Reviews, used with permission.