by Brian Floca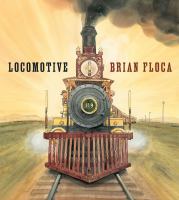 Horn Book
(c) Copyright The Horn Book, Inc., a wholly owned subsidiary of Media Source, Inc. No redistribution permitted.

Striking cinematic front endpapers describe the creation of the Transcontinental Railroad. Then, in a sort of historical-fiction-meets-travelogue narrative, Floca zeroes in on one family's journey from Omaha to San Francisco. Floca excels at juxtaposing sweeping panoramas with intimate, slice-of-life moments. Varied font sizes and styles on the large pages beautifully capture the feel of the Old West. An author's note is included. Bib. (c) Copyright 2014. The Horn Book, Inc., a wholly owned subsidiary of Media Source, Inc. No redistribution permitted.
---
Kirkus
Copyright © Kirkus Reviews, used with permission.

Floca took readers to the moon with the Apollo 11 mission in Moonshot (2009); now he takes them across the country on an equally historic journey of 100 years earlier. In a collegial direct address, he invites readers to join a family--mother, daughter and son--on one of the first passenger trips from Omaha to Sacramento after the meeting of the Union Pacific and the Central Pacific in May 1869. With encyclopedic enthusiasm, Floca visually documents the trip, vignettes illustrating the train's equipment as well as such must-know details as toilet and sleeping conditions. Full- and double-page spreads take advantage of the book's unusually large trim for breathtaking long shots of the American landscape and thrilling perspectives of the muscular engine itself. The nameless girl and boy provide touchstones for readers throughout, dubiously eyeing an unidentifiable dinner, juddering across a trestle, staring out with wide-eyed wonder. Unjustly undersung as a writer, Floca soars with his free-verse narrative, exploiting alliteration, assonance and internal rhyme to reinforce the rhythms of the journey. Frequent variations in font and type ("HUFF HUFF HUFF!" is spelled out in ornate, antique letters) further boost the excitement. Front endpapers provide detail on the building of the transcontinental railroad; back endpapers show the steam engine in cross section, explaining exactly how coal and water made it go. Nothing short of spectacular, just like the journey it describes. (Informational picture book. 4-10)]] Copyright Kirkus Reviews, used with permission.