by Laura Purdie Salas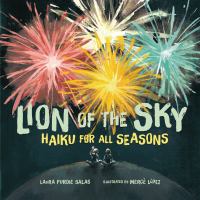 Kirkus
Copyright © Kirkus Reviews, used with permission.

In this spirited collaboration, Salas and Lpez present 24 suggestive poetic snapshots chronicling the cycle of a year. Highlighting season-appropriate objects for spring, fall, summer, and winter, Salas magnifies the spareness of the haiku form by turning each concentrated first-person portrait into a riddle as she tantalizingly omits naming the subject describing itself. Meanwhile Lpez offers young and pre-readers florid visual hints, depicting in deft brush strokes and lush colors the author's hidden subjects. Combined, these artists render objects gentle as summer's fireflies ("fire in our bellies / we FLICKER-FLASH in twilight / rich meadow of stars") or winter's snowflakes ("I'm cold confetti / falling from a crystal sky, / blanketing the town," here shown as a white-roofed town in a snow globe painted against a wintry verdigris sky spackled with haphazard white blots) or bold as a fall jack-o'-lantern ("I perch on the porch, / spooky face frozen in place, / fire BURNING inside"glowering large with flaming orange eyes as the finger of a ghostly trick-or-treater rings the doorbell in the background). What sets this volume apart from similar haiku explorations of the seasons is the tight synthesis of visual object and oblique verbal depiction, making for both wonderfully contemplative experiences of each illustrated poem and the seamless progression of nature's cycle through the year.Richly rewarding and clever: a visually arresting, inventive treatment of a popular subject. (Picture book/poetry. 5-10) Copyright Kirkus Reviews, used with permission.
---
Horn Book
(c) Copyright The Horn Book, Inc., a wholly owned subsidiary of Media Source, Inc. No redistribution permitted.

Divided into four sections by season, these "riddle-ku" poems use innovative language to represent something traditionally associated with each one. (For back-to-school in fall, for example: what is "a yellow train / carrying thoughts from your brain / to the waiting page?" A pencil.) In addition to helping readers solve the puzzles, the supporting acrylic and digital illustrations capture movement and texture through strong lines and seasonal hues. (c) Copyright 2019. The Horn Book, Inc., a wholly owned subsidiary of Media Source, Inc. No redistribution permitted.