by Elena Ferrante and Ann Goldstein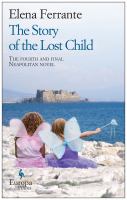 Kirkus
Copyright © Kirkus Reviews, used with permission.

Inexorable seismic changesin society and in the lives of two female friendsmark the final volume of Ferrante's Neapolitan series. Elena and Lila, the emotionally entwined duo at the center of Ferrante's (Those Who Leave and Those Who Stay, 2014, etc.) unsentimental examination of women's lives and relationships, advance through middle age and early old age (perhaps) in this calamitous denouement to their saga. The more fortunate Elena, an author who struggles to assert herself in the misogynistic world of 1970s and '80s Italy, is drawn back to Naples and its internecine bloodshed; Lila, who has stayed in the city of their youth, is at odds with its controlling families. Elena's "escape" and attempts at personal and familial fulfillment, on her own terms, hint at the changing roles of women in that era, but it's Lila's daily struggle in a Camorra-controlled neighborhood that illuminates the deep fractures within contemporary Italian society. The paths to self-determination taken by the lifelong friends merge and separate periodically as the demands of child-rearing, work, and community exert their forces. The far-reaching effects of a horrific blow to Lila's carefully maintained equilibrium resonate through much of the story and echo Ferrante's trademark themes of betrayal and loss. While avid devotees of the Neapolitan series will be gratified by the return of several characters from earlier installments, the need to cover ground in the final volume results in a telescoped delivery of some plot points. Elena's narrative, once again, never wavers in tone and confidently carries readers through the course of two lives, but the shadowy circumstances of those lives will invite rereading and reinterpretation. The enigmatic Ferrante, whose identity remains the subject of international literary gossip, has created a mythic portrait of a female friendship in the chthonian world of postwar Naples. Copyright Kirkus Reviews, used with permission.