by Henry Winkler with James Kaplan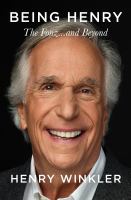 Kirkus
Copyright © Kirkus Reviews, used with permission.

The beloved actor, director, and producer tells his warm-hearted story. Life after being the Fonz wasn't all happy days for Winkler (b. 1945), but this well-crafted autobiography—complete with welcome interjections from Stacey, his wife of 45 years—shows how the acclaimed yet anxious actor learned how to be cool. This is no celebrity tell-all. The author regularly holds back on names or distinguishing details when he offers unflattering tales about anyone other than himself. Instead, he goes deep into his troubled relationship with his Holocaust–surviving parents, his long-undiagnosed dyslexia, and his struggle to find work following his superstar breakthrough as Arthur Fonzarelli in Happy Days. Whether he's relaying a difficult stretch of his life; how he came to co-author the Hank Zipzer children's book series; or how he landed the memorable roles of Barry Zuckerkorn on Arrested Development and Gene Cousineau on Barry, Winkler tells stories like he would at a dinner with friends. One minute, he's discussing his role in Adam Sandler's The Waterboy; the next, it's a failed meeting with Neil Simon. In a less genuine writer's hands, the chapter in which he discusses the family dogs and how they interact with him and each other could come across as filler. With Winkler, it's clearly a deeply felt explanation of his love for Linus, Charlotte, Hamlet, Scruffy, and Ringo. The author also offers plenty of occasionally offbeat but largely sage advice. "When I give talks these days, I say, 'Your head knows some things; your tummy knows everything'," he writes. "I say it to kindergarteners, I say it to seniors. I say it to everybody, because it is the law of living." Winkler's current late-career, Emmy–winning resurgence shows that his tummy knows what it's doing. This charming autobiography of personal struggles during times of career success and challenge deserves a big thumbs-up. Copyright © Kirkus Reviews, used with permission.