by Kimberly Brubaker Bradley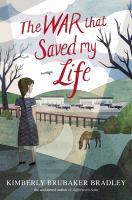 School Library Journal
(c) Copyright Library Journals LLC, a wholly owned subsidiary of Media Source, Inc. No redistribution permitted.

Gr 4-6-Bradley turns her keen historical eye from Monticello (Jefferson's Sons, Penguin, 2011) to the British home front during World War II. Ada isn't exactly sure how old she is; for as long as she can remember, she's been a virtual prisoner in her mother's third floor one-room apartment. She was born with a clubfoot and her mother uses her disability as an excuse to abuse her both emotionally and physically. Ada watches the world through the narrow confines of the apartment window, waves to neighbors in the street, and carefully gauges the danger of being beaten during each encounter with her hateful mother. She envies the freedom of her little brother, Jamie, who goes to school and generally roves the neighborhood at will. When her mother prepares to ship Jamie out to the countryside with other children being evacuated from London, Ada sneaks out with him. When the two fail to be chosen by any villagers, the woman in charge forces Susan Smith, a recluse, to take them in. Though Susan is reluctant and insists that she knows nothing about caring for children, she does so diligently and is baffled by the girl's fearful flinching anytime Ada makes a mistake. Though uneducated, Ada is intensely observant and quick to learn. Readers will ache for her as she misreads cues and pushes Susan away even though she yearns to be enfolded in a hug. There is much to like here-Ada's engaging voice, the vivid setting, the humor, the heartbreak, but most of all the tenacious will to survive exhibited by Ada and the villagers who grow to love and accept her.-Brenda Kahn, Tenakill Middle School, Closter, NJ (c) Copyright 2014. Library Journals LLC, a wholly owned subsidiary of Media Source, Inc. No redistribution permitted.
---
Kirkus
Copyright © Kirkus Reviews, used with permission.

Ada discovers there are worse things than bombs after she escapes her Mam's cruelty during a children's evacuation of World War II London. Crippled by an untreated club foot and imprisoned at home by Mam, Ada has survived, but she hasn't thrived. Only caring for her brother, Jamie, has made life tolerable. As he grows, goes out and tells Ada about the world, her determination to enter it surges. She secretly begins learning to walk and joins Jamie when Mam sends him to the country. Ada narrates, recalling events and dialogue in vivid detail. The siblings are housed with Susan, a reluctant guardian grieving the death of her friend Becky. Yet Susan's care is life-changing. Ada's voice is brisk and honest; her dawning realizations are made all the more poignant for their simplicity. With Susan's help and the therapeutic freedom she feels on horseback, Ada begins to work through a minefield of memories but still harbors hope that Mam will accept her. In interesting counterpoint, Susan also knows what it is like to be rejected by her parents. With the reappearance of Mam, things come to an explosive head, metaphorically and literally. Ignorance and abuse are brought to light, as are the healing powers of care, respect and love. Set against a backdrop of war and sacrifice, Ada's personal fight for freedom and ultimate triumph are cause for celebration. (Historical fiction. 8-12) Copyright Kirkus Reviews, used with permission.
---
Horn Book
(c) Copyright The Horn Book, Inc., a wholly owned subsidiary of Media Source, Inc. No redistribution permitted.

Ten-year-old Ada, abused by her cruel, ignorant mam due to an unrepaired clubfoot, has never been outside her squalid London flat. With WWII imminent, her brother, Jamie, is evacuated to the countryside, and Ada determines to go with him. The emotional content feels completely true, especially in recognition of how far Ada's journey will be to both physical and mental health. (c) Copyright 2015. The Horn Book, Inc., a wholly owned subsidiary of Media Source, Inc. No redistribution permitted.
---
Book list
From Booklist, Copyright © American Library Association. Used with permission.

When word starts to spread about Germans bombing London, Ada's mother decides to send her little brother, Jamie, to the country. Not 11-year-old Ada, though she was born with a crippling clubfoot, and her cruel mother treats her like a slave. But Ada has painfully taught herself to walk, so when Jaime departs for the train, she limps along with him. In Kent, they're assigned to crotchety Susan, who lives alone and suffers from bouts of depression. But the three warm to each other: Susan takes care of them in a loving (if a bit prickly) way, and Ada finds a sense of purpose and freedom of movement, thanks to Susan's pony, Butter. Ada finally feels worthy of love and respect, but when looming bombing campaigns threaten to take them away from Susan, her strength and resolve are tested. The home-front realities of WWII, as well as Ada's realistic anger and fear, come to life in Bradley's affecting and austerely told story, and readers will cheer for steadfast Ada as she triumphs over despair.--Hunter, Sarah Copyright 2010 Booklist
---
Publishers Weekly
(c) Copyright PWxyz, LLC. All rights reserved

Bradley (Jefferson's Sons) examines WWII through the eyes of a disabled child eager to escape her life of neglect and abuse. With the threat of German bombs being dropped on London, most parents are anxious to get their children out of the city. But Ada's mother, shamed by her daughter's deformed foot, doesn't seem to care. Ada takes it upon herself to board an evacuee train with her younger brother and, without their Mam's knowledge, they arrive in a country village with a crowd of students. Malnourished and filthy, the siblings are placed with Miss Smith, a woman lacking any experience with children, who claims she isn't "nice." Nonetheless, she offers Ada and Jamie food, clothing, and security, and she owns a pony that Ada is determined to learn to ride. In this poignant story, Bradley celebrates Ada's discovery of the world outside her dismal flat, movingly tracing her growing trust of strangers and her growing affection for Miss Smith. Proving that her courage and compassion carry far more power than her disability, Ada earns self-respect, emerges a hero, and learns the meaning of home. Ages 9-12. Agent: Ginger Knowlton, Curtis Brown. (Jan.) © Copyright PWxyz, LLC. All rights reserved.