by Brian Selznick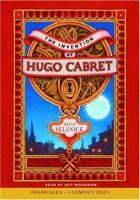 Kirkus
Copyright © Kirkus Reviews, used with permission.

From Selznick's ever-generative mind comes a uniquely inventive story told in text, sequential art and period photographs and film. Orphaned Hugo survives secretly in a Parisian train station (circa 1930). Obsessed with reconstructing a broken automaton, Hugo is convinced that it will write a message from his father that will save his life. Caught stealing small mechanical repair parts from the station's toy shop, Hugo's life intersects with the elderly shop owner and his goddaughter, Isabelle. The children are drawn together in solving the linked mysteries of the automaton and the identity of the artist, illusionist and pioneer filmmaker, Georges Mli's, long believed dead. Discovering that Isabelle's godfather is Mli's, the two resurrect his films, his reputation and assure Hugo's future. Opening with cinematic immediacy, a series of drawings immerses readers in Hugo's mysterious world. Exquisitely chosen art sequences are sometimes stopped moments, sometimes moments of intense action and emotion. The book, an homage to early filmmakers as dreammakers, is elegantly designed to resemble the flickering experience of silent film melodramas. Fade to black and cue the applause! (notes, film credits) (Fiction. 9-12) Copyright ŠKirkus Reviews, used with permission.
---
School Library Journal
(c) Copyright Library Journals LLC, a wholly owned subsidiary of Media Source, Inc. No redistribution permitted.

Gr 4-9-With characteristic intelligence, exquisite images, and a breathtaking design, Selznick shatters conventions related to the art of bookmaking in this magical mystery set in 1930s Paris. He employs wordless sequential pictures and distinct pages of text to let the cinematic story unfold, and the artwork, rendered in pencil and bordered in black, contains elements of a flip book, a graphic novel, and film. It opens with a small square depicting a full moon centered on a black spread. As readers flip the pages, the image grows and the moon recedes. A boy on the run slips through a grate to take refuge inside the walls of a train station-home for this orphaned, apprentice clock keeper. As Hugo seeks to accomplish his mission, his life intersects with a cantankerous toyshop owner and a feisty girl who won't be ignored. Each character possesses secrets and something of great value to the other. With deft foreshadowing, sensitively wrought characters, and heart-pounding suspense, the author engineers the elements of his complex plot: speeding trains, clocks, footsteps, dreams, and movies-especially those by Georges Melies, the French pioneer of science-fiction cinema. Movie stills are cleverly interspersed. Selznick's art ranges from evocative, shadowy spreads of Parisian streets to penetrating character close-ups. Leaving much to ponder about loss, time, family, and the creative impulse, the book closes with a waning moon, a diminishing square, and informative credits. This is a masterful narrative that readers can literally manipulate.-Wendy Lukehart, Washington DC Public Library (c) Copyright 2010. Library Journals LLC, a wholly owned subsidiary of Media Source, Inc. No redistribution permitted.
---
Publishers Weekly
(c) Copyright PWxyz, LLC. All rights reserved

Selznick's unique, visually arresting illustrated novel is transformed into an equally unique audiobook-plus-DVD presentation here. The story of 12-year-old Hugo Cabret-orphan, clockmaker's apprentice, petty thief and aspiring magician-and how a curious machine connects him with his departed father and pioneering French filmmaker Georges Melies is full-bodied material for Woodman. The narrator dives in, reading with both a bright energy and an air of mystery-befitting the adventurous plot. Listeners will likely cotton to Woodman's affable tone and be fascinated by all the unusual elements here, including the sound-effects sequences (footsteps, train station noises) that stand in for Selznick's black-and-white illustrations, which appear like mini-silent movies in the book. Selznick himself takes over as host on the making-of style DVD, in which he divulges his love of film and his inspiration for the book, discusses (and demonstrates) his drawing technique and even performs a magic trick. The "chapters" of his interview are interspersed with excerpts from the audiobook, as he explains how the recording was a translation of both his words and pictures to sound. This inventive audio-visual hybrid will be a welcome addition to both home and classroom libraries. Ages 9-12. (Mar.) (c) Copyright PWxyz, LLC. All rights reserved
---
Publishers Weekly
(c) Copyright PWxyz, LLC. All rights reserved

Here is a true masterpiece-an artful blending of narrative, illustration and cinematic technique, for a story as tantalizing as it is touching. Twelve-year-old orphan Hugo lives in the walls of a Paris train station at the turn of the 20th century, where he tends to the clocks and filches what he needs to survive. Hugo's recently deceased father, a clockmaker, worked in a museum where he discovered an automaton: a human-like figure seated at a desk, pen in hand, as if ready to deliver a message. After his father showed Hugo the robot, the boy became just as obsessed with getting the automaton to function as his father had been, and the man gave his son one of the notebooks he used to record the automaton's inner workings. The plot grows as intricate as the robot's gears and mechanisms: Hugo's father dies in a fire at the museum; Hugo winds up living in the train station, which brings him together with a mysterious toymaker who runs a booth there, and the boy reclaims the automaton, to which the toymaker also has a connection. To Selznick's credit, the coincidences all feel carefully orchestrated; epiphany after epiphany occurs before the book comes to its sumptuous, glorious end. Selznick hints at the toymaker's hidden identity (inspired by an actual historical figure in the film industry, Georges Melies) through impressive use of meticulous charcoal drawings that grow or shrink against black backdrops, in pages-long sequences. They display the same item in increasingly tight focus or pan across scenes the way a camera might. The plot ultimately has much to do with the history of the movies, and Selznick's genius lies in his expert use of such a visual style to spotlight the role of this highly visual media. A standout achievement. Ages 9-12. (Mar.) (c) Copyright PWxyz, LLC. All rights reserved
---
Horn Book
(c) Copyright The Horn Book, Inc., a wholly owned subsidiary of Media Source, Inc. No redistribution permitted.

Over a sequence of twenty-one double-page wordless, illustrated spreads, a story begins. The tale that follows is a lively one, involving the dogged Hugo, his ally Isabelle, an automaton that can draw pictures, and a stage magician turned filmmaker. The interplay between the illustrations and text is complete genius, and themes of secrets, dreams, and invention play lightly but resonantly throughout. (c) Copyright 2010. The Horn Book, Inc., a wholly owned subsidiary of Media Source, Inc. No redistribution permitted. All rights reserved.
---
Book list
From Booklist, Copyright © American Library Association. Used with permission.

\rtf1\ansi\deff0Selznick's novel in words and pictures, an intriguing mystery set in 1930s Paris about an orphan, a salvaged clockwork invention, and a celebrated filmmaker, resuscitates an anemic genre\emdash the illustrated novel\emdash and takes it to a whole new level. The result is somewhat similar to a graphic novel, but experiencing its mix of silvery pencil drawings and narrative interludes is ultimately more akin to watching a silent film. Indeed, movies and the wonder they inspire, like seeing dreams in the middle of the day, are central to the story, and Selznick expresses an obvious passion for cinema in ways both visual (successive pictures, set against black frames as if projected on a darkened screen, mimic slow zooms and dramatic cuts) and thematic (the convoluted plot involves director Georges M\'e9li\'e8s, particularly his fanciful 1902 masterpiece, A Trip to the Moon0 .) This hybrid creation, which also includes movie stills and archival photographs, is surprising and often lovely, but the orphan's story is overshadowed by the book's artistic and historical concerns (the heady extent of which are revealed in concluding notes about Selznick's inspirations, from the Lumi\'e8re brothers to Fran\'e7ois Truffaut). Nonetheless, bookmaking this ambitious demands and deserves attention\emdash which it will surely receive from children attracted by a novel in which a complex narrative is equally advanced by things both read and seen. --Jennifer Mattson Copyright 2007 Booklist
---
School Library Journal
(c) Copyright Library Journals LLC, a wholly owned subsidiary of Media Source, Inc. No redistribution permitted.

Gr 3-6-Brian Selznick's atmospheric story (Scholastic, 2007) is set in Paris in 1931. Hugo Cabret is an orphan; his father, a clockmaker, has recently died in a fire and the boy lives with his alcoholic Uncle Claude, working as his apprentice clock keeper in a bustling train station. When Hugo's uncle fails to return after a three-day absence, the boy decides it's his chance to escape the man's harsh treatment. But Hugo has nowhere to go and, after wandering the city, returns to his uncle's rooms determined to fix a mechanical figure-an automaton-that his father was restoring when he died. Hugo is convinced it will "save his life"-the figure holds a pen, and the boy believes that if he can get it working again, it will deliver a message from his father. This is just the bare outline of this multilayered story, inspired by and with references to early (French) cinema and filmmaker George Melies, magic and magicians, and mechanical objects. Jeff Woodman's reading of the descriptive passages effectively sets the story's suspenseful tone. The book's many pages of pictorial narrative translate in the audio version into sound sequences that successfully employ the techniques of old radio plays (train whistles, footsteps reverberating through station passages, etc.). The accompanying DVD, hosted by Selznick and packed with information and images from the book, will enrich the listening experience.-Daryl Grabarek, School Library Journal (c) Copyright 2010. Library Journals LLC, a wholly owned subsidiary of Media Source, Inc. No redistribution permitted.