by Andy Cohen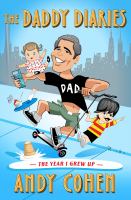 Library Journal
(c) Copyright Library Journals LLC, a wholly owned subsidiary of Media Source, Inc. No redistribution permitted.

Cohen is an Emmy Award—winning TV and radio host and executive producer of The Real Housewives franchise, but his latest diaries reveal his life as a single father of two. The book delves into his whirlwind year in 2022, from the days after his impassioned "Sayonara, sucker!" rant about former New York City mayor Bill de Blasio on CNN's live New Year's Eve show, to the drama of the Housewives stars and the birth of his daughter. Readers of his previous works—The Andy Cohen Diaries and Superficial—will be at home in this one. It includes candid and irreverent prose as he name-drops and parties with a revolving cast of characters. The book shines in its descriptions of Cohen's tender moments with his children. He recounts the joy and chaos of raising an infant girl and a "threenager," which indicates he is just as fallible as any other parent. It's satisfying to witness his growth as he makes good on his goals for self-improvement and putting his family first. VERDICT This fast and breezy diary reveals a man who is happiest not on camera but when he's curled up in bed reading picture books to his children.—Ashlynne Watson
---
Publishers Weekly
(c) Copyright PWxyz, LLC. All rights reserved

In this hilarious account of the trials and triumphs of fatherhood, producer and talk show host Cohen (Superficial) proves people can still grow up in middle age. Beginning with his now-infamous drunken "good riddance" rant to Bill de Blasio during CNN's 2022 New Year's Eve broadcast, Cohen offers candid insight into his day-to-day life, whether he's making appearances on Jimmy Kimmel Live!, enduring stints as the target of internet scorn, or simply going through the motions of his fast-paced, celebrity-in-Manhattan lifestyle. The best moments, though, come midway through, and—as the title suggests—are devoted to his children, toddler Ben and newborn daughter Lucy, who sends "love bombs with her eyes and smile." Being a parent to a newborn shifts Cohen's attitude: when Lucy enters the picture, his focus shifts almost entirely to family, whether heading to school, worrying about the children fighting, or enjoying rare quiet moments at home. While some dispatches border on mundane ("Taped a show. Lucy was so fussy all day. Looked at fabrics for the beach house tonight with Jackie," reads one entry in its entirety), Cohen's unfiltered approach is hugely endearing. Equal parts astute and frivolous, this is sure to satisfy Cohen's many fans. (May)
---
Book list
From Booklist, Copyright © American Library Association. Used with permission.

In 2014, author Cohen—TV producer extraordinaire, host of Watch What Happens Live, perennial MC of New Year's Eve festivities, and BFF of reality-show housewives—published a diary about a star-studded, gala-hopping year. His major takeaway was that his adoption of a dog, Wacha, brought unexpected meaning to his life. Then came Superficial (2016), filled with ruminations on Cohen's romantic relationships and frenzied fame in the face of turning 50. This current offering comes as Cohen says he's finally grown up, seeing as he's now a single dad to preschooler Ben and infant Lucy. Fans will be happy to know that Cohen's gossipy gushing still works well, whether he's dropping scandalous celebrity scoops or bemoaning sleep deprivation caused by teething (Lucy's, not his). Somehow, a sweet story of a family coming together emerges amidst all the name-dropping and breathless reportage. The takeaway this time? Despite qualms about a quieter, less alcohol-infused lifestyle and chronic FOMO, Cohen finds that time at home, snuggling with his kids, is exactly where he wants to be.
---
Kirkus
Copyright © Kirkus Reviews, used with permission.

The host of Bravo's Watch What Happens Live recounts a year in his life as a single working parent. Celebrities are indeed just like us—or at least Cohen seems to be. In his fifth book, the author displays the relatable wit and honesty that have made him a TV star. After the introduction to this "continuation of The Andy Cohen Diaries and Superficial," Cohen begins on Jan. 1, 2022, and he ends his diary entries on Dec. 31, after which he offers a brief epilogue. "It's kind of like the diary was my shrink for a year," he concludes. Though some readers may get tired of the exclamation points scattered like glitter across nearly every page, it's clear the author uses them to express genuine joy and gratitude. Even when stressed or anxious, we see Cohen acknowledge his feelings, process them, and get back at it the next day. Housewives come and go, as do nannies, feuds, and firefighters, but underneath it all is the author's love and excitement for the world he now shares with his two children, Ben and Lucy. Refreshingly, there is very little cynicism or exclusivity in this book. Cohen names his favorite restaurants and dearest friends, and he is unabashedly delighted at getting a star on the Hollywood Walk of Fame. For a book that is all celebrity and (first) name-dropping, readers feel like they are part of the action. However, he's careful not to fall victim to gossipy dirt about his love life: "I would love to share every sordid detail of nights of passion with you, because I consider us friends in my head, but I'm just…not writing about it." Cohen is here to share his experiences and make you feel seen while doing it—and he does it well. Universal truths combine with kindness and optimism in a memoir from a single working parent who just happens to be a star. Copyright © Kirkus Reviews, used with permission.