by Jojo Moyes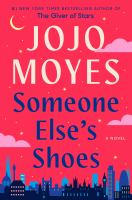 Kirkus
Copyright © Kirkus Reviews, used with permission.

Two London women accidentally switch bags at the gym and end up walking in one another's shoes—literally. Sam Kemp is struggling—between her demanding jerk of a boss, her pushy parents, and her husband's untreated depression, she has the weight of the world on her shoulders. When she accidentally grabs the wrong bag at the gym as she rushes out to a meeting, she's initially dismayed to find the bag contains a towering, strappy pair of Christian Louboutin heels instead of her usual sensible footwear. But when she's forced to wear the shoes into her meetings, she discovers something—they give her confidence and power she's never had before. Emboldened, she doesn't rush back to the gym to return them. That's unfortunate for Nisha Cantor, whose gym bag Sam accidentally stole. Nisha just got cut off by her ultrarich, controlling husband—now ex-husband. He won't return her calls, he shuts her out of their penthouse, and he closes her credit cards, essentially leaving her with nothing. Out of options and money, Nisha finds herself working as a cleaner at the building where she once lived, hoping to sneak into her husband's penthouse and get some of her things. But Nisha is also desperate to get those shoes back, and she'll stop at nothing to find them. Meanwhile, Sam is dealing with her own problems, mainly feeling alone as she attempts to keep her family afloat while her husband's illness worsens. When Nisha and Sam finally meet, the two of them realize they might actually be able to work together to fix both their lives. Nisha and Sam both have satisfying arcs as characters who start out being difficult to like—Nisha because she's a snob and Sam because she's a pushover—but become better, stronger people because of their friendship. Moyes is also brilliant at creating fully formed, charmingly funny side characters, like Nisha's co-worker Jasmine and Sam's friend Andrea. Ultimately, the story is about the importance of women from all walks of life supporting and looking out for one another. A compelling, full-of-heart novel about the power of female friendship. Copyright © Kirkus Reviews, used with permission.
---
Publishers Weekly
(c) Copyright PWxyz, LLC. All rights reserved

Moyes's charming spin on Trading Places (after The Giver of Stars) follows two 40-something women who end up with each other's shoes. After Sam Kemp accidentally grabs the wrong bag at her London gym and finds in it a custom-made pair of Louboutins, she takes to wearing the heels to business meetings and finds a new confidence among her colleagues. Meanwhile, American Nisha Cantor ends up stuck with Sam's sensible flats. Nisha returns to the hotel where she's staying with her wealthy husband, Carl, only to find he's locked her out and frozen her accounts, blindsiding her. Then the gym suddenly shuts down and Sam has no way to return Nisha's belongings, so she leans into her new life, avoiding her depressed husband and a boss who's out to get her. Meanwhile, Nisha takes a job at the hotel where she was once a guest, and Carl gives her the ultimatum to find the Louboutins, which he'd given to her, or forfeit any kind of divorce settlement. The plot leans a bit too much on convenience, but Moyes is never short on her trademark clever observations (of Sam: "There is a particularly vindictive tenor to the kind of hangover that occurs in your forties"). The author's fans will have a ball. Agent: Sheila Crowley, Curis Brown. (Feb.)
---
Book list
From Booklist, Copyright © American Library Association. Used with permission.

In Moyes' latest, a switched gym bag changes lives in London. Nisha is an American married to a very rich man and only likes the finer things in life. Sam is struggling to get by at a job she despises to support her depressed husband and their teenage daughter. After a workout, Nisha gets an alarming phone call from her husband, and in the chaos, Sam accidentally leaves with Nisha's bag. When Sam finds her sensible shoes replaced with high-heeled, designer ones, she decides to take on a persona that fits the footwear. Nisha, on the other hand, finds herself cut off financially and served with divorce papers. With nowhere to go, Nisha stumbles into a job working at the very hotel she used to reside in. But Nisha's husband wants the designer shoes back before he will give her a settlement. However, even though Nisha finds Sam, the plot takes a twist which makes Nisha, Sam, and other women in their orbit band together to help Nisha get her life back. This novel showcases Moyes' ability to portray emotion and female friendship with themes of love, betrayal, family, and hope. It is action packed and will have readers rooting for Nisha and Sam.
---
Library Journal
(c) Copyright Library Journals LLC, a wholly owned subsidiary of Media Source, Inc. No redistribution permitted.

Moyes's (The Giver of Stars) 14th novel features four middle-aged women who discover the power of female friendship and of a good pair of shoes. Saleswoman Sam is going through a rough patch. Her husband is depressed and unemployed, her teen daughter is angry, and her new boss is malicious and ageist. The only positive is the support of her best friend Andrea, a breast-cancer survivor. Sam goes to the gym one morning and leaves with the wrong bag—one belonging to American trophy wife Nisha, who's just learned her husband is divorcing her and cutting her off. Her Chanel jacket and Louboutin heels are missing; she has to wear the gym's robe and some cheap flats from a stranger's bag. Nisha plots revenge, becoming a cleaner at a hotel and finding support in a coworker, Jasmine. The storylines converge through a series of hilarious and touching events focused on Nisha's Louboutins. When the four women finally meet, they launch a master plan to solve their problems while getting revenge on the men responsible. VERDICT Moyes's strong story contains intrigue and humor, sympathetic, complex characters, and a satisfying conclusion. For Moyes fans but also those who enjoy the novels of Karen White and Melissa de los Santos.—Melanie Kindrachuk