by Kyo Maclear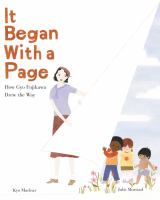 Kirkus
Copyright © Kirkus Reviews, used with permission.

Pencil in hand, faced with an unjust world, Gyo Fujikawa created a new future.At 5, Japanese American Gyo Fujikawa didn't yet know what she wanted to be. She knew a pencil fit well in her hand, and she liked to fill empty pages with pictures of her world. As she grew, Fujikawa used her passion for art and her mother's activism to guide her education and inspiration. Defying gender conventions, Fujikawa attended college in 1926, when few American women did. Studying in Japan, she exchanged restrictive art classes for travel and aesthetic immersion. Back in the U.S., her family was sent to an internment camp on the West Coast while she began an art career at Disney on the East Coast, causing Fujikawa to lose her desire to draw. Eventually, she found a way to wield her craft to fight injustice. Her first book, Babies, published in 1963, featured racially diverse babies playing together and became a huge success despite publisher prejudice and misgivings. Morstad's artwork precisely balances white space with vignettes, black-and-white illustrations with eye-catching color. Often mimicking Fujikawa's style, Morstad layers engaging details and deep emotional resonance onto Maclear's spare, poetic text. Backmatter includes a detailed timeline with photos and quotes, an extensive note from the creators, and a selected bibliography and sources list.A splendid picture-book celebration of an artist and activist. (Picture book/biography. 5-8) Copyright Kirkus Reviews, used with permission.
---
Horn Book
(c) Copyright The Horn Book, Inc., a wholly owned subsidiary of Media Source, Inc. No redistribution permitted.

Japanese American artist Fujikawa (1908'€"1998) helped break the color barrier in picture books with her 1963 now-classic Babies. Maclear lucidly outlines a remarkable life of art and creativity, of struggle and perseverance. Growing up in California, Fujikawa '€˜sometimes...felt invisible among her mostly white classmates.'€™ This feeling continued into adulthood and an art career in New York City, especially when her West Coast'€"based family was incarcerated in WWII internment camps. Morstad's illustrations effectively vary in style and coloring to match events. Timeline. Bib. (c) Copyright 2021. The Horn Book, Inc., a wholly owned subsidiary of Media Source, Inc. No redistribution permitted.