by Mitali Perkins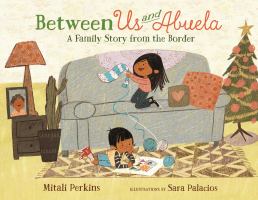 Horn Book
(c) Copyright The Horn Book, Inc., a wholly owned subsidiary of Media Source, Inc. No redistribution permitted.

With her family, Mar√≠a visits San Diego's U.S.'€"Mexico border to celebrate La Posada Sin Fronteras--Jesus' birth.--with her abuela on the other side of the border fence. Nothing is allowed '€˜through the fence'€™; Mar√≠a's clever if credulity-stretching solution to gift-giving allows for a heartwarming, culturally specific, and hopeful family holiday story. Perkins's lyrical text, incorporating some Spanish words, is accompanied by warm-hearted, sand-and-sea-toned illustrations. An author's note adds context. (c) Copyright 2021. The Horn Book, Inc., a wholly owned subsidiary of Media Source, Inc. No redistribution permitted.
---
Kirkus
Copyright © Kirkus Reviews, used with permission.

A Christmas fairy tale set at the border wall.Mara and Juan get on a border-bound bus with their mother. They haven't seen Abuela in five years. Both children have made gifts: a knitted scarf from Mara and a drawing of Mary and Joseph on cardboard from Juan. Arriving at the annual Posada Sin Fronteras event (the Inn Without Borders), the children must wait their turn in order to have 30 minutes with Abuela. Touching pinkies through a metal grid, they exchange love and family news. When it's time to say their goodbyes, Mara starts feeding the scarf through the small holes in the fence. A border patrol officer intercepts and takes the scarf. "We can't let anything through the fence." Orchestrating the requisite Christmas "miracle" to convey howling Juan's gift to his grandmother occupies about half the book and veers into fantasy. The sister transforms her brother's artwork into a kite with the knitting needles MacGyver-ed into spine and cross spar. With the unlikely encouragement of the officers, Mara successfully flies the kite over both the primary and secondary border fences/wallswhich is against the law. To the triumphant shouts of the crowd on both sides of the border, Abuela gets her happy ending. Perkins' fictionalized account of the actual annual gatherings at San Diego's Friendship Park paired with Palacios' chirpy illustrations inadvertently belie the heartbreak and human suffering played out every year. What's "between us and Abuela"? The same thing that's between the U.S. and Mexicoan 18-to-30-foot-high double fence. (Picture book. 5-8) Copyright Kirkus Reviews, used with permission.