by Robert Macfarlane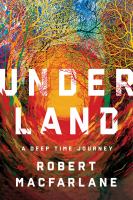 Kirkus
Copyright © Kirkus Reviews, used with permission.

An exploration of the little-visited realms of the Earth, from deep caves to bunkers, trenches to Bronze Age burial chambers, courtesy of an accomplished Virgil.Macfarlane (The Lost Words, 2018, etc.), who has pretty well revived single-handedly the fine British tradition of literary natural history writing, can usually be found atop mountains. In his latest, he heads in the opposite direction, probing the depths of the Earth to find the places in which humans have invested considerable imaginative attention yet fear to tread. He opens with a cave network discovered in China's Chongqing province only a few years ago that "was found to possess its own weather system," with layers of dank cold mist that never see sunlight. From there, the author moves on to other places that require us to "go low," into places that humans usually venture only to hide thingstreasure, sacred texts, bodies. Now that many such places are making themselves known, exposed during construction excavations and unveiled by melting permafrost, "things that should have stayed buried are rising up unbidden"treasure sometimes, more often just bodies. All of this is occasion for Macfarlane, a gifted storyteller and poetic writer, to ponder what historians have called "deep time," the time that is measured in geological rather than human terms and against which the existence of our kind is but a blip. Even places well known or celebrated in antiquityfrom the underworld of The Epic of Gilgamesh to the Iron Age mines of the Mendip Hills of southwestern Englandare recent points on the map of that ancient landscape. As he moves from continent to continent, Macfarlane instructs us on how to see those places, laced with secrets and mysteries ("all taxonomies crumble, but fungi leave many of our fundamental categories in ruin"). Wherever he travels, he enhances our sense of wonder which, after all, is the whole point of storytelling.A treasure all its own. Anyone who cares to ponder the world beneath our feet will find this to be an essential text. Copyright Kirkus Reviews, used with permission.