by Mina Javaherbin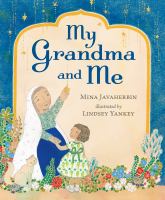 Kirkus
Copyright © Kirkus Reviews, used with permission.

Love, childhood adventures, religion, and tradition are the centerpieces of this book about the author and her late grandmother, with whom she grew up in the same household in pre-revolutionary Iran.The narrator joins her grandmother, whom she loves dearly, in everything as she goes about her day. When grandma sweeps, she does too; when grandma wakes up for prayer at dawn, she does too; and when grandma sews herself a chador, she helps, even if nominally. The delicately lined illustrations gracefully evince both the mundane and the magic in the details of the narrator's everyday life as a child: the boy delivering towers of bread on his bike; Ramadan meals with her grandma, both at home and at the mosque; and playtime with her friend Annette while both of their grandmothers chat, knit blankets, and drink coffee. This sweet story is intermingled naturally with details about Iranian and Islamic traditions and values and supported by such visuals as an easy mix of traditional and Western attire and thoughtful inclusion of Persian design elements. It peaks in a moment of solidarity between the two grandmothers, each praying for the other to go to heaven, but via their different Muslim and Christian religions: a poignant, inclusive note. In its celebration of specific manifestations of universal love, this is highly recommended for families and educators, Muslim and non- alike, looking to teach children about Islam.A deep and beautiful book modeling grandmothers as heroines. (Picture book. 4-9) Copyright Kirkus Reviews, used with permission.
---
Horn Book
(c) Copyright The Horn Book, Inc., a wholly owned subsidiary of Media Source, Inc. No redistribution permitted.

The narrator recalls her childhood growing up in Iran. The child accompanies her grandma on her daily routines, including spending time with friends; as Grandma and her best friend laugh, drink coffee, and knit blankets for their mosque and church, respectively, the children (and readers) witness a beautiful interfaith friendship. Yankey's muted illustrations work well to convey cherished memories and love, with thoughtful cultural details incorporated throughout. (c) Copyright 2021. The Horn Book, Inc., a wholly owned subsidiary of Media Source, Inc. No redistribution permitted.