by Monica Brown ; illustrated by Julie Paschkis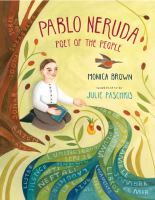 Kirkus
Copyright © Kirkus Reviews, used with permission.

More than a heartwarming portrait of Chile's most revered poet, this splendid tribute to Pablo Neruda animates his global appeal with a visceral immediacy capable of seducing readers of any age. Brown's spare descriptions of the little boy who "loved wild things wildly and quiet things quietly" and grew to write poems about "velvet cloth the color of the sea," contrasts wonderfully with Paschkis' lush, earth-toned paintings that teem with the florid stream of words and images populating the inner world of the budding poetic consciousness. The word-laden illustrations, sporting names of authors in tree bark or swirling adjectives in the hollow of the moon, are a constant throughout the volume, spilling from Spanish to English, sound to sense"arc oro orange azure azul ample apple simple timber timbre..."and back again, with as great a depiction of creative processing as one's likely to see. At pains to depict Neruda above all as "a poet of the people," Brown encourages young readers to notice the suggestive world around them and then render it for others through language. She moves seamlessly from describing Neruda's poetic artistry to political activism, showing how an appreciation for the stones of Chile "tumbling down the mountaintops" could lead to his understanding of their value in "the hands of the stonecutters." A visual and thematic stunner. (author's note, bibliography)(Picture book. 4-11)]] Copyright Kirkus Reviews, used with permission.
---
Horn Book
(c) Copyright The Horn Book, Inc., a wholly owned subsidiary of Media Source, Inc. No redistribution permitted.

Brown opens with Neftali's boyhood love of reading, writing, and nature, celebrating the subjects that informed his poetry and his "dreams of peace." Paschkis's signature effusions of color and stylized forms are embellished with words--in English, Spanish, and other languages--poetically related in both sound and sense. It all adds up to an intriguing dramatization of Neruda's themes and concerns. Reading list, websites. (c) Copyright 2011. The Horn Book, Inc., a wholly owned subsidiary of Media Source, Inc. No redistribution permitted.