by Eka Kurniawan and Annie Tucker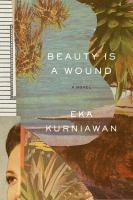 Kirkus
Copyright © Kirkus Reviews, used with permission.

English-language debut of a celebrated Indonesian author. "One afternoon on a weekend in May, Dewi Ayu rose from her grave after being dead for 21 years." With this surprising sentence, Kurniawan sets the stage for an epic picaresque that's equal parts Canterbury Tales and Mahabharata. Weaving back in forth in time, moving from character to character, the author tells the story of Indonesia from its Dutch colonial days, through the Japanese occupation during World War II, and into independence as a modern state. Kurniawan's characters are broadly drawn, but they aren't one-dimensional. Dewi Ayu, the most sought-after prostitute in the seaside city of Halimunda, is a shrewd, fearless, and resourceful woman but an ambivalent mother. Her lover, Maman Gendeng, is a romantic thug. The soldier Sodancho is both an illustrious revolutionary and a self-serving racketeer; he's also a rapist. These contradictions are more mythic than psychologically subtle, a reminder that few heroes are purely heroic. The great warriors of yore often come across as bullies and thugs, and when Homer called Ulysses "wily," it wasn't meant as a compliment. Some readers may object to this author's blithe depiction of horrorsincluding incest, bestiality, and murderbut that, too, makes good folkloric sense. In fairy tales, monstrosity is a sign, and violence is a catalyst; the concept of lingering trauma has no hold on the folk imagination and no place in the world Kurniawan has constructed. There are undoubtedly references and resonances here that are meaningful only to those well-versed in Indonesian history and indigenous storytelling traditions, but that's as it should be: Kurniawan is an Indonesian writer. That said, Anglophone readers are lucky to have access to this exuberantly excessive and captivating novel. Huge ambition, abundantly realized. Copyright Kirkus Reviews, used with permission.