by Susan Hood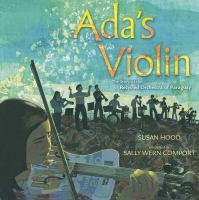 Horn Book
(c) Copyright The Horn Book, Inc., a wholly owned subsidiary of Media Source, Inc. No redistribution permitted.

Children living in destitution on a landfill in Paraguay are offered music lessons by environmental engineer Seqor Chavez. Since "it wasn't safe" to have expensive instruments, Chavez fashions instruments out of trash; the kids' "Recycled Orchestra" goes on to international acclaim. Comport combines many techniques to create gorgeous, layered art that captures this remarkable, inspiring true story's essence. An author's note adds details. Websites. (c) Copyright 2016. The Horn Book, Inc., a wholly owned subsidiary of Media Source, Inc. No redistribution permitted.
---
Kirkus
Copyright © Kirkus Reviews, used with permission.

Hood presents the story of a Paraguayan youth orchestra whose instruments are fashioned from garbage collected in the local landfill. Cateura is, literally, "a town made of trash." The dump for the capital city of Asuncin, Cateura receives 1,500 tons of trash daily, and 2,500 families subsist there, with generations of gancheros scouring for recyclable materials like cardboard and plastic. Favio Chvez, an environmental engineer assigned to Cateura to teach the recyclers safety methods, began offering music lessons to children, to help keep them safe. He enlisted a carpenter's expertise in creating instruments from salvaged materials. "They transformed oil drums into cellos, water pipes into flutes, and packing crates into guitars!" Hood's narrative focuses on talented Ada Ros, whose years of dedicated practice on a metal-and-wood violin parallel the orchestra's ascendant fame in Paraguay and internationally. "Ada and her friends flew on their first airplane, stayed in their first hoteland saw sights they never imagined." Comport's complex, digitally enhanced collages combine acrylics, drawing, and layered typographic elements, conveying both the oppressive omnipresence of garbage and the functional beauty of the handcrafted instruments. For a spread celebrating the music's transforming effects, Comport renders musicians and gancheros in silhouette against the landfill, bathed in sunset pinks and golds. Pair with the suggested video links to experience the music of a remarkable, resilient cultural community. (author's note, websites, videos, quotation sources, photographs) (Informational picture book. 4-8) Copyright Kirkus Reviews, used with permission.