by Atinuke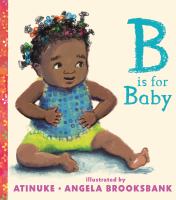 Horn Book
(c) Copyright The Horn Book, Inc., a wholly owned subsidiary of Media Source, Inc. No redistribution permitted.

From Atinuke and Brooksbank (Baby Goes to Market), another tenderly funny story set in an unspecified African village and starring a winsome baby girl. B is not only for baby but also for an intriguing basket with a lid; when the little girl peeks inside, a sequence of pictures shows her overbalancing into the basket and then settling in happily. Brooksbank's mixed-media illustrations use warm colors on spacious off-white pages. (c) Copyright 2019. The Horn Book, Inc., a wholly owned subsidiary of Media Source, Inc. No redistribution permitted.
---
Kirkus
Copyright © Kirkus Reviews, used with permission.

A circular tale of family love with visual rewards for sharp-eyed listeners. In this story that looks like an alphabet book but focuses exclusively on the letter B, a smiling woman, probably mama, stands in a yard, holding Baby cheek-to-cheek, as another woman chats with four children under the awning of a small tin-roofed house in the background. Many visual details hint at this book's African (probably Nigerian) setting. After Mama Beads Baby's hair, Brother loads a Basket of Bananas onto his Bicycle while bopping to the beat of what's playing through his headphones, oblivious to everything elseespecially the fact that Baby climbed into the Basket to have a Banana for Breakfast. On the road, he passes a Baobab tree, Birds, a Butterfly, Baboons, a Bus brimming over with brown-skinned riders crossing a Bridge, and more sightsfew of which Brother notices. Nothing, however, escapes the keen eyes of Baby. Only when Brother lifts the Bananas from the Bicycle rack does anyone discover the stowaway. A surprised Baba happily welcomes both grandchildren, who join him for Biscuits and bottles of something bubbly. Brooksbank effectively avoids stereotypes while adding humor and cultural specificity to the story with her detailed and lively, colorful, mixed-media images. Safety-conscious caregivers may suck their teeth, but there's no denying the joy in this book.Atinuke has bottled the delightful energy of the Anna Hibiscus books and poured it into this treat for younger readers. (Picture book. 3-6) Copyright Kirkus Reviews, used with permission.