by Willy Vlautin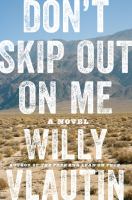 Publishers Weekly
(c) Copyright PWxyz, LLC. All rights reserved

In this powerful novel, Vlautin (The Free) writes about characters whose big dreams and plans are often stunted by fate and circumstance, but who've managed to find a way to push through, bruised but with hard-won wisdom. Young Horace Hopper is half-Irish, half-Paiute Indian, and he has spent most of his life as a ranch hand. While herding sheep in the stark, isolated mountains near Tonopah, Nev., Hopper listens to heavy metal music and struggles with the shame of being abandoned by his parents. Hopper's guardian, the aging rancher Eldon Reese, suffers crippling back pain and faces an uncertain future as his way of life becomes less and less tenable. Reese and his wife love Hopper dearly and consider him a son, but the young man soon leaves for Tucson to pursue his dream of becoming a professional boxer. Hopper, now calling himself "Hector Hidalgo," finds a washed-up trainer and manages to get some fights throughout the Southwest and Mexico. A series of injuries, however, soon threaten to derail his career before it's really off the ground. In this excellent novel, Vlautin's reverence for the land recalls writers such as Jim Harrison and John Steinbeck. Agent: Anna Stein, ICM Partners. (Feb.) © Copyright PWxyz, LLC. All rights reserved.
---
Book list
From Booklist, Copyright © American Library Association. Used with permission.

*Starred Review* Have good-hearted ordinary people ever had to endure as much pain as they do in a Willy Vlautin novel? Perhaps only in real life. Sometimes Vlautin's people come out on the other side, at least for a while, and sometimes they don't, but what can we expect in a world where if we're lucky we live long enough to see most everything we love die? That's Mr. Reese talking, and he should know. An anachronistic Nevada sheep farmer with a bad back, he and his wife have spent nearly two decades serving as guardians to Horace Hopper, a half-Paiute, half-Irish young man abandoned by his parents. The Reeses want Horace to take over the ranch, but he has his own dream, and it's a doozy a dream of asserting himself by becoming a boxer (not just a boxer but, flying in the face of his own ethnic background, a Mexican boxer). So it's off to Tuscon and then to Mexico and then, finally, to Las Vegas, as Horace gamely but futilely tries to follow the advice he has memorized from a self-help book called Build the Champion inside of You. Add Horace to the long list of those who have gone wrong by reading the wrong books, but like Emma Bovary, who developed delusions of grandeur by reading romance novels, Horace brings such heartbreaking passion to his misbegotten quest that we respond like crazed fans at ringside, though we aren't rooting as much for Horace to become a boxing champion as we are for him to somehow find the authentic self he seeks. That's what Vlautin does to us; he strips away our defenses with close-to-the bone prose that leaves us utterly exposed to the tragedy of being alive and every bit as thankful for those moments of aching humanity before the curtain falls.--Ott, Bill Copyright 2017 Booklist
---
Library Journal
(c) Copyright Library Journals LLC, a wholly owned subsidiary of Media Source, Inc. No redistribution permitted.

Singer-songwriter Vlautin's latest (The Free) is another quietly devastating addition to his growing canon of spare and heartrending contemporary Westerns. At 21, Horace Hopper is ready to leave the mountains of Nevada and the only stability he has ever known-herding sheep at the ranch of his guardian, Mr. Reese-to become a champion boxer and to fulfill the destiny laid out in his self-help books. At 72, Mr. Reese needs Horace to keep the ranch going but knows he cannot stand in the way of his surrogate son's dreams. On his own for the first time in Tucson, Horace finds a trainer and changes his name (no Paiute has ever been a famous fighter). As the fights get harder and the physical toll becomes greater, Horace's withering self-doubt threatens to consume him, just as Mr. Reese decides it's time to call him home. VERDICT Vlautin's unerring ability to write without artifice or judgment about hardscrabble people trying to do good makes him the literary heir to the late Kent Haruf. This is a deeply compassionate story made more poignant for its unadorned simplicity, with an ending that lands with the emotional force of a Horace Hopper one-two punch.-Michael Pucci, South Orange P.L., NJ © Copyright 2018. Library Journals LLC, a wholly owned subsidiary of Media Source, Inc. No redistribution permitted.
---
Kirkus
Copyright © Kirkus Reviews, used with permission.

A spare, melancholic tale about a poor young man's burning desire to succeed as a boxer.Like his earlier novels, Vlautin's (The Free, 2014, etc.) latest follows in the tradition of John Steinbeck's and Raymond Carver's moving portraits of working-class people. The focus is on two nuanced characters. Horace Hopper is a 21-year-old half-Paiute, half-white man who works on 72-year-old Eldon Reese's sheep ranch in a canyon outside Tonopah, Nevada. Horace, abandoned by his mother when he was 12, was taken in by Reese and his wife, Louise. Horace has grown up in a loving, generous family who gave him work, food, money, and a life, but he yearns for more, to "be somebody," to fight like a Mexican boxer because "they're true warriors who never quit." He's committed to going to Tucson, Arizona, to participate in a Golden Gloves competition. Reese tries his best to dissuade Horace, offering to give him his ranch when he can no longer run it, which is probably pretty soon. Horace says he has to go"I'm gonna do great down there"but promises to come back. With a heart full of hope and determination he moves to Tucson, finds a part-time job, and hires Alberto Ruiz as his trainer. Vlautin's narrative seamlessly floats back and forth between Reese and Horace as he creates two beautifully rendered characters. Reese's quiet life goes on: working on his tractor, talking to friends, missing Horace, drinking a cold beer. Horace works out and trains with Ruiz, but Ruiz notices a flaw in Horace's boxing technique. He tends to "freeze up," something another fighter would quickly pick up on. They're going to work on it. Horace finds success in his first tastes of competition, but there's a distinct sense of foreboding in the air as Vlautin slowly lets this poignant tale unwind to its inevitable, heartbreaking conclusion.A powerful, haunting portrayal of lives rendered in unflinching, understated prose. Copyright Kirkus Reviews, used with permission.